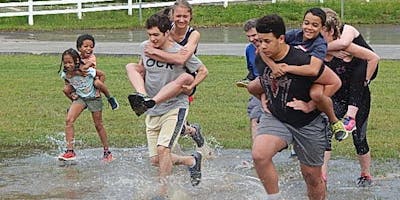 America's Most Exciting Family Friendly Adventure Race! 
Official Race Site
Follow us on Facebook
   SHARE THIS EVENT! Share race with 8+ people Facebook, Google Plus or email and receive a free GAR backpack ($15 value) . (Ex. "We are doing The Great Amazing Race. Join us and we both get a GAR backpack".) 
 
 
    This exciting adventure race, modeled after the TV show "THE AMAZING RACE", features two person teams racing in competition with other similar age teams. Teams are directed to complete a variety of fun mental & physical challenges at multiple stops along the course. "Teamwork" is the key skill as each challenge requires the involvement of both racers in order to complete the challenge. 
   Walk, jog or run - and be prepared to get a little dirty & wet.  It's a great bonding experience and way more fun than a 5k race.
   Waves begin every 10 minutes - kids teams, then adult teams.  
 
RACE INFO  
1. Open for ages 4 to 84. 
2  1.5 mile course with up to 8 challenge stations.  
3. 2 person teams - adult/adult, adult/kid or kid/kid. 
4. 2 levels ... Recreation (for leisure pace teams), Competitive (for physically active teams).
5. 4 race divisions ... grades K-2 / 3-5 / 6-8 / 9-Adult... based on grade of younger member.  
6. 1st place medals awarded to division winners. 
7. Plan on 60 minutes ... race happens rain or shine.  
8. Fundraise & earn $1,000 for your school, team, club or charity ... go to  www.GreatAmazingRace.com  for details. 
  
DONATE SNEAKERS FOR PEDIATRIC CANCER  
 
   We partner with the Max Cure Foundation's - Dunk Your Kicks program which fights against pediatric cancer.  You too can join the fight by donating 2 pairs of used sneakers or running shoes to the cause.  When you do, you will receive a free mulligan/2 minute time-eraser token for the race.  We believe that one good deed deserves another.