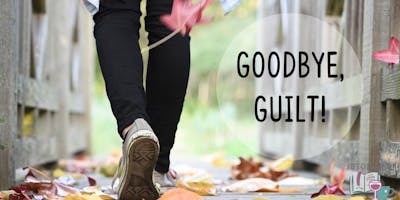 Guilt. It has a way of popping up at random times and in random places, doesn't it? It can overtake us when we least expect it. Yet, it's quite possible some of us have been living with it for so long, unfortunately guilt has become a part of who we are.
It can dictate how we think and how we act. Guilt over such things as: Do I call my parents enough? Did I raise my children the right way? I think I said the wrong words to my friend the other day. I'm taking time out for me, yet I feel guilty for putting my needs ahead of my family's. Let alone guilt we feel for our past mistakes and sins. Those can wreck us in the worst way, leaving us feeling worthless and empty.
This guilt can stand in the way of our relationship with others, with God, and with ourselves. It blinds us from truth, and distracts us from God's love and grace. It can be so strong, so intense, we may begin to question God's love for us. How could God love someone like me?
The good news is, however, we don't have to let guilt rule in our lives one minute longer. At this BYOB and B event, we will learn truth about guilt and how we can finally say goodbye to it. 
We could each use some encouragement in this life, couldn't we? Encouragement is what these powerful BYOB and B (Bring Your Own Bible and Beverage) events are all about. They give us women the opportunity to reconnect with ourselves, to connect with God and with other women, and to refresh our hearts, minds, and souls.
This is where we can be real with each other. We'll leave comparing and competing at the door, as we gather together to learn, grow, and have some fun. We'll look at real-life promises and the hope that's available for us right now, right where we are.
You'll not only be encouraged, but you'll also enjoy:
-A delicious dinner (come hungry!)-Fellowship with other women like you who desire connection-Biblical teaching and truth-A time to laugh, smile, and hit the pause button of life for a couple hours-Being equipped for this adventure of life
Feel free to bring your own choice of beverage (yes, even alcoholic beverages are okay). Iced tea and water are provided.