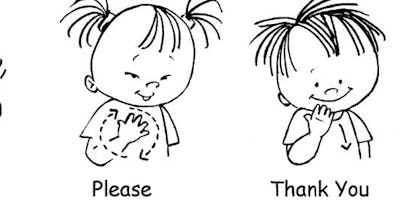 Baby Sign Basics
with Linda Schmackpfeffer from Tiny Hands Talk to Me
Tuesday, September 24th, 6:30 - 8:30 pm 
 BABY SIGNING BASICS CLASS
 
WHO:
Any adult who cares for or works with hearing babies up to 18 months old will want to consider taking this class. Including but not limited to:

Expectant parents, parents, grandparents, other family members
Infant – toddler  childcare professionals, nannies
Physicians, PA's, nurses, hospital or clinic staff
OT's, PT's ST's…etc.

 
OBJECTIVE:
To teach adults everything they need to know, to successfully teach the hearing babies in their care.  At this one time- 2 hour class, participants will learn 40 "baby friendly" basic signs. But more importantly they will learn helpful teaching strategies and techniques for success.  Class includes Course Book.
 
WHY:
Research shows that babies who are taught a few simple signs are:

Less frustrated and have fewer tantrums
Speak sooner than their non-signing peers
By age 2 they have significantly larger vocabularies
By age 3 they speak and understand at a 4 year old level
Have IQ's 10-12 points higher than their peers
Have a jump start on language development

 This event is for adults and non-mobile babies. 
Linda Schmackpfeffer of Tiny Hands Talk to Me
Linda received her initial Baby Signing Instructor certification from Kindersigns University in 2006. In 2010 Linda applied to and was accepted by The Signing Time Academy. She received further training and became a Certified Baby Signing Time Instructor.
Over the years Linda has taught her Baby Signing Classes at local libraries, and recreation centers, as well as holding private in home classes for interested parents and families. She also has conducted several workshops for the teaching staff of various childcare centers in the Rochester area.