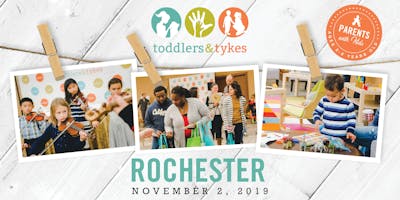 Join us for the 3rd annual Toddlers & Tykes event in Rochester, NY! 
Toddlers & Tykes is an exclusive event designed for parents with kids between 2 and 6 years old, and anyone who's attended Babies & Bumps, Rochester's premier event for new and expectant parents, will recognize the format. It's the next logical step after Babies & Bumps; as parents ourselves, we know that your need for support, education, and local connections doesn't end when your "baby" isn't a baby anymore!
On event day, moms, dads, and caregivers can expect to find all of the following (and more) under one roof: 
*Educational sessions -- we partner with experts to provide classroom-style workshops and seminars on a wide range of topics related to parenting and kids, like how to make learning fun, satisfy the pickiest of eaters, or sharpen positive parenting skills.
*Demonstrations -- take a trip behind-the-scenes with class previews from drama, sports, and music programs, and participate in interactive demonstrations like child CPR/First Aid and car seat safety. 
*Exhibitors & vendors -- we curate the event in order to showcase organizations that cater to parents with kids between 2 and 6 years of age, have positive online reviews and good reputations, and have missions that are aligned with ours. On event day, guests can learn about local resources, shop, and sign up for classes, among other things. *Amenities -- we offer creature comforts like a mothers' lounge -- for peace, quiet, nursing, and pumping -- as well as a snack shack for kids, passed samplings for parents, a stroller check, and more. *Kids' activities -- with help from our partners, we're able to provide toys and activities to make the day fun for our littlest guests, too. *Fabulous giveaways -- our gift bags are packed with full-sized products, samples, special offers, and class passes! Plus, guests have the chance to win exclusive door prizes and gain entry into our grand prize drawings, based on ticket type. 
*Opportunity to give back -- guests have a chance to win dozens of prizes generously donated by our sponsors, local businesses, and manufacturers in our raffle. 100% of proceeds from raffle ticket sales are donated to a mission-driven organization that serves families and children. *Convenience -- parking is free and plentiful, and the DoubleTree Rochester is easy to access.For up-to-date information, sign up for our newsletter, visit our website at www.toddlers-and-tykes.com, or RSVP to the Facebook event page -- exhibitors, programming schedules, and other details will be posted as they become available.If you're interested in joining us a vendor or sponsor, fill out the following form and we'll be in touch! http://babies-and-bumps.com/signup/sponsors-signup/Looking forward to seeing you all on November 2nd!