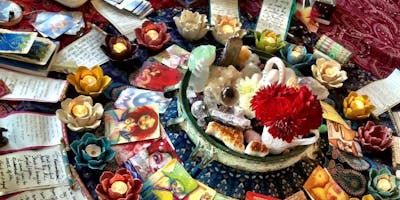 Women's Circle at Cedar Sanctuary
Wednesday: June 12 8 at 6-9pm (doors open at 5:45pm)Location: Cedar Sanctuary: 21407 NE 6th Place, Sammamish (residential area with ample parking, including driveway. Susan Creighton's cell: 510.508.3271)Email Elena Payanen at [email protected] with questionsInvestment: $30 (pre-registration required)
Do you hear the Call of the Sisterhood? Are yearning for deep, meaningful connection with other women? Do you wish to take the time off from the ordinary to slow down and to create or co-create the Sacred?
When women get together to create a sacred space to compassionately see and hear each other, to honor their stories, their bodies and the natural cycles, they magnify the power of their intentions and prayers. They energetically create a web of support for not only themselves but for the women everywhere.
Women's Circle at Cedar Sanctuary is based on the ancient practices of a Native American tradition of a Talking Circle. When women sit in the circle, they are all connected, and they are all equal. Sacred Medicine Bowl is used as a Talking Object and the main agreement is that whoever is holding the Bowl has all the attention of the Circle and can share from the heart. The others have an excellent opportunity to practice deep and compassionate listening. In the Circle women are healed, nurtured, comforted and truly seen.
Women's Circle at the Cedar Sanctuary are always done in the spirit of the Beauty Way. What to expect:

To be welcomed into a safe and nurturing space of Cedar Sanctuary.

To spend several hours in the magical Circle Space lovingly adorned in the Way of the Beauty: luxurious textiles, candles, twinkling lights, flowers, nature objects and art.

To be safely and lovingly held in the strong container of the Women's Circle to connect, share, and learn.
Please wear comfortable clothes – we will be sitting on the floor (back jacks, yoga mats, cushions and blankets will be provided), and adorn yourself.

Top grade essential oils, flower essences, incense or medicinal herbs (Mugwort, Sage, St. John's wort or others) might be used during the Circle.

Drumming, dancing or creating art might be part of the Circle experience.

The Flow of the Evening:5:45 to 6:30 – Teatime & Socializing (please eat dinner before arriving).6:30 – Opening of the Circle (doors will be closed around 6:15 and there are no late arrivals – Thank you!)

Cleansing/Smudging and Settling in - Opening Directions - Setting Intentions for the Circle

Agreements for the Circle

Gratitude Prayer

Introductions – Red Thread Connection – Bringing in Ancestors

Theme Introduction

Sharing Circle

Self-Care Break – Movement – Singing

Guided Meditation – Journaling – Sharing

Closing of the Circle, Closing the Directions, Closing Prayer

9 pm - Tea (optional) and farewells. Please be respectful of the time and space and plan to leave by 9:30pm as Cedar Sanctuary is in a residential area. Thank you!
RSVP on Facebook: https://www.facebook.com/CedarSanctuary
Questions? Cotact Elena Payanen or Susan Creighton (Cedar Sanctuary)