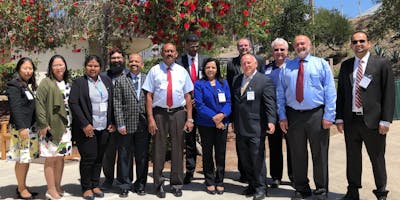 5th California Annual International Conference On Management and Leadership Practices
                                                                   (May 16-18, 2019)
           California School of Management and Leadership, Alliant International University,
                                                           San Diego, California-U.S.A.
----------------------------------------------------------------------------------------------------------------------------------- 
Call for papers
The California School of Management and Leadership, Alliant International University is organizing the 5th California Annual International Conference On Management and Leadership Practices. The conference will be held at the California School of Management and Leadership, Alliant International University on May 16-18, 2019 in San Diego, California, USA. The aim of the conference is to promote and exchange ideas in the field of Management and Leadership. 
Papers are invited for presentation at the conference. Young academicians and researchers are especially encouraged to present their work to an experienced audience. Participants and those with accepted papers have to register prior to the conference. Authors interested in presenting at the conference are requested to submit an initial 600 words abstract on business research and management practices in one of the following fields:
1. Health care system
2. Food security management
3. Business Analytic
4. Supply chain management
5. Enterprise systems
6. Project management
7. E-Governance
8. Management information system
9. Marketing, Business and Marketing strategies and International Business
10. Leadership practices
11. HRM/E- Human Resource Management
12. Management Science
13. Finance and International Finance
14. Business Ethics
15. Quantitative Methods, Business Statistics/Econometrics
16. Business and Corporate Law/Law
17. Entrepreneurship
18. Business & Economics/Microeconomics
19. Hospitality and Tourism
20. Accounting / IT- Accounting and Auditing
The list is only indicative. Authors may also contribute paper in other relevant fields.
A technical committee will base their reviews and acceptance of submitted papers on relevance to policy, contribution to the literature and general body of knowledge.
Submission Guidelines

Structured Abstract: Title of paper (Font size 14), Names of the author and co-author – Initial name followed by surname, Affiliation(s) of authors(s) (Font Size – 12). Maximum 600 words, should include the rationale, objectives, methodology, key findings and conclusion.

Paper: 3000-3500 words for paper (Times New Roman, Font size – 12), Single line spacing with one inch. Justify margins.

The research paper should be arranged in the following sections: Title, Author(s), Address, Structured Abstract, Keywords, Introduction, Materials and methods, Results and Analysis, Discussion, Conclusion(s) and References.

Table and charts should be adjuncts to the text and must not repeat material already presented.

Author or co-author will make the 15 minutes power point presentation in front of the expert of panels.

Three best papers will be awarded at the Valedictory session of Conference.

 All Abstracts selected for paper presentation will be published in the conference report. Selected papers will be published in special issue of the peer-reviewed journal: International Journal of Business Research and Management Practices in Global Environments with ISSN number: 2473-4047.
Details of Journal :
Volume 1: December 2017
Volume 2: March 2019
Registration Fee

$450 for participants/attendees (without accommodation)

$900 for participants: Registration + accommodation for three nights (16,17,18 May 2019)

$150 for Students and scholars and Alliant alumni (without accommodation)

Upon confirmation/approval of abstract, the participants need to pay a non-refundable fee of $100 as pre-registration fee to confirm their registration, which will be adjusted against the total registration fee. The remaining fee should be paid before the stipulated deadline. On-spot registration is not available. Fee once paid will be non-refundable for all categories.

The Registration fee includes lunch and coffee breaks during the conference days.
Registration fee should be paid through the conference link on https://www.eventbrite.com/e/5th-california-annual-international-conference-on-management-and-leadership-practices-tickets-55837680004?ref=estw
(Or www.eventbrite.com On this website, search for the conference name and register as per the guidelines. Feel free to contact [email protected]  for any query)
Accommodation:
Holiday Inn, 9888 Mira Mesa Blvd, San Diego, CA 92131 with the participant getting the hotel link for providing personal information directly to the hotel.

There is an arrangement of local sightseeing (San Diego) on last day of conference i.e. May 18, 2019. Participants should mention their interest for the same in the registration form. It'll help the organizing team to plan effectively and communicate costs.

If the participants plan to club this conference with their holiday plan, the conference organizing team can help them get in touch with tour operators. 

Important Dates:
1. Online Submission of Abstract: - April 1, 2019
2. Notification of Acceptance: - April 10, 2019
3. Pre-Registration (with $100 fee payment) Deadline: - April 15, 2019
4. Submission of Full Paper and PowerPoint Presentation (PPT):- May 6, 2019
5. Full Registration Fee Payment: May 10, 2019
6. 5th California International Annual Conference on Management and Leadership Practices, May 16-18, 2019. 
                          All queries must be addressed to [email protected]