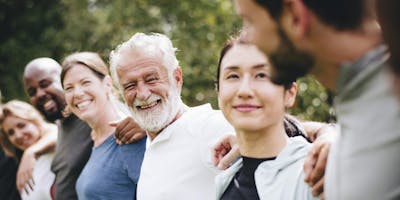 Please join us for the first ever gathering of A Human Workplace San Diego! 
A Human Workplace San Diego is a local gathering that is part of a growing global movement to make workplaces around the world more human. Founded in the State of Washington by Renee Smith, A Human Workplace gatherings explore, discover and practice what it means to be human at work. Check out the website to learn more about Making Work More Human. 
A psychologically safe, human-centered workplace has been shown to be the key to better employee productivity, engagement and business outcomes along with well-being. Join us to learn more about how to strengthen your own workplace culture. 
Your Co-hosts for this event are Tiffany David and Devin Hughes.
What to expect at A Human Workplace 
A Human Workplace community gathers to explore, learn, and encourage each other to better practice and advocate for a more loving, human workplace. We are a growing community of like-minded people who want to learn, share, and be challenged to to be more human-centered in our work. The focus of A Human Workplace is to shift from fear-based to love-based leadership and teams where real value is delivered and improvement happens continually out of care for people.
Plans for the First GatheringAt the first gathering, participants will be introduced to A Human Workplace and explore the two primary human emotions - love and fear.  Love at work is experienced as acceptance, respect and a sense of belonging.  Fear at work is experienced as indifference, rejection, uncertainty and worry.  How do we scare people at work?  How do we create workplaces that embrace loving, human-centered leadership and teams?
The Way We Gather
This community is an open, safe, and welcoming space for all. The goal is for everyone to feel included in this conversation because we all have so much to learn from each other as humans. A Human Workplace gathering is characterized by relationships, reflection, dialogue, and active exploration. Don't expect to be talked at but expect to talk with each other to discover and affirm what's most important about being human together at work and beyond. 
Register today to reserve your seat for this gathering. When you register, your email will be added to the mailing list for A Human Workplace.