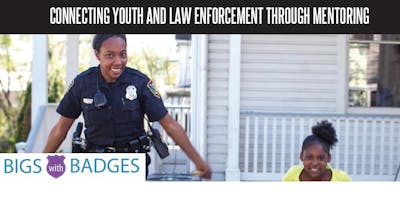 Join us on Tuesday November 12th from 12:00 PM- 1:00 PM. It will be a brief, yet informative look at Big Brothers Big Sisters of San Diego County's organization, programs, and volunteer opportunities. Attending a Volunteer Information Session is the first required step in becoming a Big.
Bigs with Badges is a one-to-one mentoring program that connects San Diego youth in underserved communities with law enforcement officers and staff through mentoring friendships. Law enforcement officers commit to serve as "Big Brothers" and "Big Sisters" to children, ages 7 – 17, and spend time with them twice a month doing activities that they both enjoy doing. A strong and trusting friendship grows from the time spent together that helps each child grow in self-confidence, stay in school, and avoid risky behaviors. Additionally, these friendships help build stronger bonds between law enforcement, the families and communities where the children live that promote positive, trusting police-community relations.
 It's a fun and fulfilling volunteer opportunity that brings positive impact to children, their families, and the neighborhoods in which they live in. Officers are asked to commit to participating in activities with their Little at least twice a month for a minimum of one year. Our staff will provide organized agency events throughout the year to help make the planning of activities more convenient.
 Currently, we have about 650 children waiting for a Big and 70% of these children are boys. Join us to learn more and take the first step to making a difference!!  These info sessions that are designed to help potential volunteers learn about our program, expectations and process to enroll.