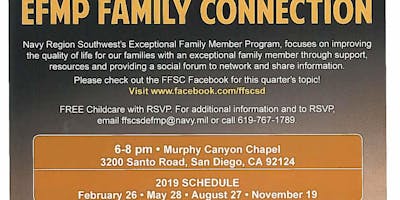 Greetings EFMP Families! We invite you to our quarterly Family Connections, in May, where we will be speaking with gurus about PCS season (SOON APPROACHING) and all the resources availble to trasition smoothly as an EFM family, from 6-8 pm at the Murphy Canyon Chapel.
The EFMP PCS Panel will be available to provide families with subject matter information about:
ways to talk to your little one about change and saying goodbye to friends
how to connect to local resources and new case liaison before your actual arrival
tranferring IEP's and education services
finding spousal employment
Childcare will be available on a first come, first serve basis, so RSVP TODAY before May 3, at [email protected]  For additional question please call 858-577-4588.
We look forward to seeing you there!