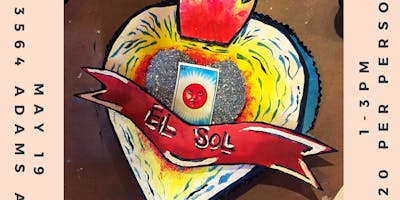 Join us for this creative and fun Flaming Corazon Workshop! 
This workshop will be hosted by Chicanista Boutique at Back from Tomboctu Gallery & Imports on May 19th at 3564 Adams Avenue, San Diego CA 92116 from 1pm - 3pm

In this workshop you will follow step by step instructions how to make a beautiful Flaming Corazon shaped jewelry box by using a layering technique! 
$20 Includes:  
-All supplies 
-Detailed instruction 

Come get creative with us!