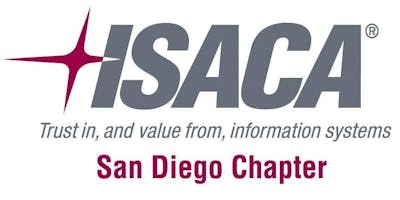 Topic: Certification Bootcamp - Two-Day Course
Dates: Saturday, Nov. 9 & Sunday, Nov. 10, 8:00am-5:00pm both days
Meals: Breakfast, break refreshments and lunch will be provided.
Parking: Free convenient weekend off-street parking and $15 daily building garage parking are available.
Overview:
The San Diego ISACA Chapter provides one weekend (total 16 CPE hours) sessions for exam preparation. However, these sessions are not intended to be basic teaching sessions by themselves. The candidates should have the proper educational background in all of the subject areas. The sessions are designed to review the domains that comprise each examination and to clarify the more difficult material. The sessions will include lectures and discussions with time for questions raised by the participants, and exam practice questions.NOTE: These review courses are intended to assist participants in their preparation for the exam(s). However, there is no guarantee that completion of any review course will ensure passage of the examination.
For more details:
For the exam registration details, testing windows, and fees click here. Please note this bootcamp does not include the cost of the exam registration fee.For prompt, accurate course communication, please ensure you register with an email you check regularly.If you have any questions or need additional information, please contact Chanasee Cunningham or Alex Branisteanu or Blair Baker
Recommended study materials:
The 2019 Technical Review Manuals will not be provided at the review class and must be purchased directly from ISACA Bookstore. Purchase is not mandatory but highly recommended. Class preparation will benefit from reading the domain (chapter) material prior to the class session. Instructors may hand out additional materials if deemed appropriate. Instructors will NOT provide a hardcopy of handouts so bring your tablet or laptop. A digital copy of material will be provided.
Instructors:
CISA Bootcamp: Eric Read, 
CISA, CISM, CGEIT, began his IT career in the 1970's as a software developer, moving into network operations in 1992.  After rising to the position of network and security architect, Mr. Read took the leap into IT audit in 2002, and managed the 2004 Sarbanes-Oxley testing for a Fortune 500 pharmaceutical company. In 2005, Eric began his 10-year tenure at UnitedHealth Care, rising to the position of Associate Director of Audit, Risk Management and Compliance. Eric began teaching CISA and CISM classes in 2012 and was named the Certification Chair for ISACA Los Angeles from 2013 through 2014. During that time Mr. Read was also a member of the ISACA International CISM QAE Board, whose job it was to review and approve potential certification test questions. Eric currently works as Risk Analyst/Process Engineer at Warner Bros / Warner Media in Burbank, CA.
CISM Bootcamp: Janice Pearson, CISA, CISM is a graduate of American University in Washington D.C. After a decade working as a compliance auditor in the financial industry, she pivoted to a security/IT protection role in the entertainment industry. Janice currently serves as the Vice President, Global Content Protection for Convergent Risks Inc., a global consultancy specializing in security, risk and compliance services for the entertainment industry. The consultancy also provides services such as penetration testing, vulnerability scanning, DRM testing, security strategy and policy development, remediation support, security training, breach investigations and CCPA & GDPR compliance services.  Previously, Janice worked at Warner Bros. Entertainment Inc. ("WB") for 10 years and served as Director, Content Protection Strategy & Operations within their Worldwide Content Protection and Analytics Department, where she was responsible for creating and implementing supply chain security procedures from production through distribution for the Company's motion picture, television and games content. She worked closely with and vetted third-party vendors used by WB which handled the Company's content and investigated content leaks within the supply chain. Janice represented WB on the MPAA's Content Security Working Group and served as an Advisory Board Member to the Content Delivery and Security Association's ("CDSA") Board of Directors.  She currently sits on the CDSA's Technology Committee and participates regularly as a speaker at industry security summit events.
CSX Fundamentals Bootcamp: Miguel (Mike) O. Villegas, CISA, CISSP, CSX|F, ISO 27001 Lead Implementer, PCI QSA, PA QSA is Western Regional Senior Vice President for K3DES LLC. He also is the founder of iSecurePrivacy LLC. He has over 35 years experience in IT Audit, Information Security and IT Risk Management. He has held positions of an IT Audit Director, Director of Information Security, CISO, Director of Professional Services, VP of IT Risk Management and a Big 4 Partner. He is a past president of the LA ISACA Chapter and the San Francisco Chapter of ISACA. He is also currently a contributing writer for SearchSecurity.com with over 150 articles. Mr. Villegas is currently Certification Chair for the ISACA Chapter in Los Angeles.