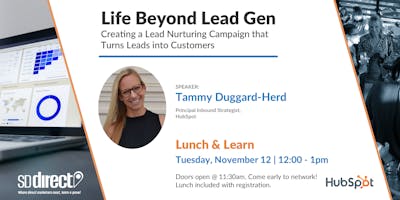 Topic: 
Life Beyond Lead Gen: How to Create a Lead Nurturing Campaign that Actually Turns Leads into Customers
Only 1 in 10 professional marketers describe their lead generation efforts as "highly efficient and effective." If you are one of the 9 who aren't feeling great about your lead gen efforts, do not miss this event!
A single landing page is fine if all you want to do is collect leads, but if you want them to actually turn into customers (and revenue), you need a solid lead nurturing campaign. That's why this workshop is dedicated to teaching you how to create a multi-touch lead nurturing campaign, from creating your strategic foundation to writing the content for your premium assets.
You'll Learn:
How to create assets catered to your target audience at every stage of their journey.
Tips for maximizing the conversion rates of your landing pages.
How to connect it all with email sequences that progressively nurture leads towards buying from you.
You'll walk away with an action plan for turning your database of leads into quality sales conversations and customers.
Do not miss this opportunity to learn from a marketing expert who produced a 744% increase in organic traffic and 575% increase in leads. We welcome all HubSpotters to join us!
This presentation is great for marketing and sales:
B2B business owners and marketers
B2C business owners and marketers with longer sales cycles and/or higher price points
Register Now!
Hope to see you there!
Cheers, 
SD Direct