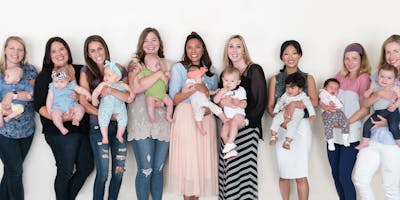 New Baby?  We got ya.
Our June - August group will meet from 12:00 pm - 1:30 pm on 06/13, 06/20, 06/27, 07/11, 07/18, 07/25, 08/01, and 08/08. Skip Thursday 7/4. 
Milestones' Mommy and Me groups are designed to provide support, insight, and education to postpartum moms + their littles (0-12 months). 
Founded and facilitated by a licensed Marriage and Family Therapist (and mom), Milestones is an 8-week group series where conversations, questions, and interest of group members are combined with research-back topics and insights.
Each week builds off the last as you develop a better understanding of your little, gain insight into your own process and experience, and reassuring connect in the ups, downs, and in-betweens of motherhood and this all-consuming life-stage of babies.
At Milestones, we know that there is no right way to mom. We are here to help you find what works for you, and to make sure you never have to mom alone. 
Important note: Milestones judgment-free, all-inclusive group environment. Whether you choose breast or bottle, crib or co-sleep, organic or Kraft mac 'n' cheese; we are all in this together, we are your people.
Learn more at www.sdmommyandme.com

Follow us on Instagram and Facebook @milestonesmommyandme