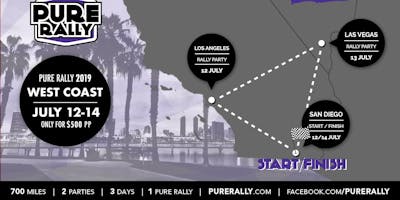 Pure Rally USA West coast 2019
July 12-14th 2019 only $1000 per person 
It's SoCal to go surfing and running along the West Coast, but across the pond, we do things a little bit differently. Starting in San Diego we'll drive in convoy to LA LA LAND where we will have our first party of the trip.
The following morning once we've recovered from the night before, we will head to the City of Sin, where undeniably we'll be doing some sinning!
Can you imagine topping this off by driving back to Diego, with the sun setting in the background and excitement building up for the end of Rally party that awaits you?
You shouldn't have to imagine because my friends, that is the reality.
This is the kind of run your Flyknits or Yeezy's, it's the kind of run you need your car, some gas, and some fun and friends!
YOUR PACKAGE INCLUDES: 
All hotels 4 & 5 stars as standard on the rally (including breakfast) included in the price 
FREE entry to all PureRally parties
Farewell party
A team of glamour models to party with on the rally
Member of staff on call 24 hours in case you need us
FREE stickers for your car
Drivers pack with fully planned route 
The 2018 Pure Rally USA grid is now open.
Deposit is $200 per person, entry fee balance due June   1st 2019
Important: This event is booked on a first come first served basis, no exceptions, 35 cars maximum. Minimum of 2 people per car Places are limited so book now to avoid disappointment.