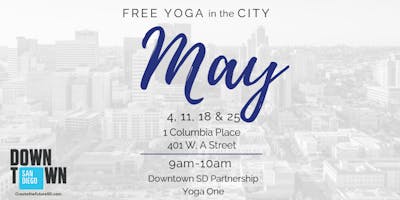 Join us for our free weekly yoga series! Every weekend, we invite members of the community to relax and unwind during a family-friendly yoga class taught by Yoga One.
Location: 1 Columbia Place (401 W. A Street - enter from W. B & join us on the 4th level terrace)
Check-in at 8:30 a.m.
Class at 9:00 a.m.
Please be sure to bring your own mat for the class.
All levels and ages are welcome!

Classes taught by:

Brought to you by:

In the interest of your safety, it is important to check with your physician before beginning any exercise program and to exercise according to your fitness level and capabilities. If you have any questions, please seek the guidance of a wellness/fitness/health professional.
IMPORTANT: By completing this form, you agree to receive information from the Downtown San Diego Parnterhsip and Yoga One.