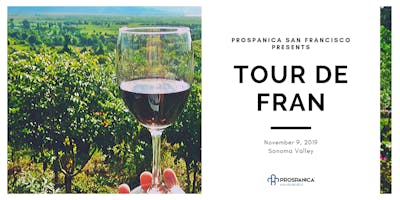 Prospanica San Francisco cordially invites you to our 2nd Annual Tour de Fran.   
Saturday, November 9th, we will visit wineries in the famed Sonoma and Napa regions.  We will be wine-tasting at Mexican-American owned wineries, Ceja and Robledo.  
Pricing includes (2) wine tastings, lunch in downtown Sonoma and roundtrip transportation to and from Sonoma (pick-up/drop-off location in downtown San Francisco). 
We look forward to seeing you in SanFrancisco. Salud!

Saturday:
8:00 AM     -   Pick-up in downtown San Francisco
10:00 AM    -  1st Tasting at Ceja Vineyards
12:00 PM    -  Lunch at HopMonk Tavern  
2:30 PM      -  2nd Tasting at Robledo Family Winery
5:30 PM      -  Drop-off in downtown San Francisco

Our 2018 Inaugural Tour de Fran