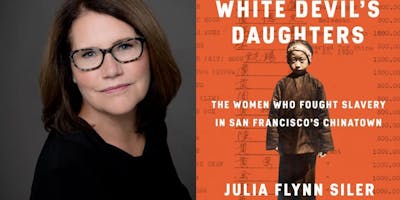 With an investigative historian's sharp eye, Siler tells the story of both the abolitionists who challenged the corrosive anti-Chinese prejudices of the time and the young women who dared to flee their fate. She relates how the women who ran the Cameron House defied contemporary convention by physically rescuing children from the brothels where they worked or by snatching them off ships as they were being smuggled in–and how they helped bring the exploiters to justice. This is a remarkable chapter in an overlooked part of San Francisco history, told with sympathy and vigor.
 
BIOS
 
Julia Flynn Siler is a New York Times best-selling author and journalist. Her most recent book is Lost Kingdom: Hawaii's Last Queen, the Sugar Kings, and America's First Imperial Adventure. Her first book, The House of Mondavi: The Rise and Fall of an American Wine Dynasty, was a finalist for a James Beard Award and a Gerald Loeb Award for distinguished reporting. A veteran journalist, Siler is a longtime contributor and former staff writer for The Wall Street Journal and has been a guest commentator on the BBC, CNBC, and CNN. Please visit juliaflynnsiler.com for more information.
 
Doreen Der-McLeod is a fourth generation Chinese-American, but the first generation born in the U.S.  Doreen attended U.C. Berkeley and served as a VISTA (Volunteers in Service to America) in Appalachia after she graduated.  She then went to work as the Girls' Worker in the Youth Department of Cameron House before going back for her M.S.W. at Rutgers. Doreen's last job was as the Executive Director of Donaldina Cameron House, an organization founded by Presbyterian women in 1874.