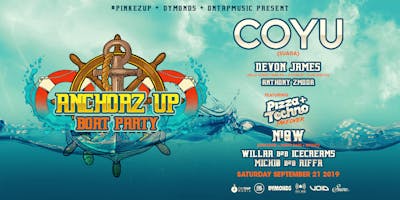 #pinkezup + Dymonds + OnTap Music Present:
ANCHORZ UP BOAT PARTY
Ages: 21+
TICKETS WILL BE AVAILABLE AT THE DOOR!- - - - - - - - - - - - - - - - - - - - - - - - - - - - - - -
BOAT SCHEDULE:BOARDING: 6:00PMSAILING/DEPART: 6:30PMDOCK/RETURN: 10:00PM
* The ship will sail with or without you, so please be on time *EVENT INFORMATION:We have full bar(s) and food is available on the Main Deck.(CASH/CREDIT ACCEPTED)Be prepared for weather changes: San Francisco WeatherPlease have a valid government-issued ID and ticket ready!
LASTLY,We have new #pinkezup dad hats available for purchase at a discounted price of $25!You can text us if you have any questions or just want to send us funny cat pictures at (415) 420-7465
See you soon!- - - - - - - - - - - - - - - - - - - - - - - - - - - - - - -
Set sail with us as we pull up the anchorz and disembark on a sunset voyage on the beautiful San Francisco Bay with:
Coyu (Suara)
Coyu "The Big Cat" is one of the most referenced and respected personalities on the techno scene. Ever since he founded his cat empire in 2008, Suara, he's been known to be the inspiration for many because of what he's achieved, directing a brand that shows no signs of slowing down. What started off as a record label (until this day it's still one of the most important labels for house and techno, as you will be able to see reflected on charts like Beatport and Resident Advisor) is now a symbol for cat and dance music lovers. Coyu directs with great precision a brand that because of such a demand is also a brand of clothes (Suara Store, with a physical store in Barcelona) and a non-lucrative organization that loves and helps street cats (Suara Foundation).
Following a flurry of great remixes for the likes of Fatboy Slim (Skint), Stephan Bodzin (Herzblut), Joseph Capriati (Drumcode), Pete Tong & John Monkman (Suara), MOBY & Skylar Grey (Little Idiot), Charlotte de Witte (Turbo) just to name a few, he is steadily signing no less groovy original tracks such as "Clap Your Hands" (Drumcode), "The Cat" (Hot Creations), "Apparition" (Noir), "Profound Pleasure" (Defected) or the already classics "Balls", "Cygnus" (release #200 on the label!) and "Y.E.A.H.", both released on his beloved Suara. From his very great 'hit' "El Baile Alemán" (Liebe Detail, 2009) Coyu has released also on many other labels such as Get Physical, Bedrock, Cocoon, 100% Pure, Systematic, etc.
The worldwide clubbing music scene has surrendered to Coyu's performances. He recruited fans from every corner of the globe, playing at venues and festivals such as BPM Festival (Mexico), Sónar, Mysteryland, ADE (Amsterdam-NL), Winter Music Conference (Miami-USA), Piknic Electronik, Supersonic (India), Ultra Music Festival, Boiler Room / Stay True Spain (Barcelona), MixMag / The Lab (UK), Ministry Of Sound, ETC. And of course, Ibiza and Barcelona! After a remarked residency in Pacha ('Insane' on Fridays) alongside artists such as John Digweed, Mark Farina, Steve Lawler, Derrick Carter and Fritz Kalkbrenner. Coyu and his 'restless kitties team' have even presented a successful Ibizan Suara weekly residency at Booom (2014) and Sankeys (2015). In his hometown (Barcelona) he frequently held as well very successful label nights, both with Suara & Feline (his brand new and more underground techno label), currently at Under club and Apolo-Nitsa respectively.
Facebook
Instagram
Soundcloud
Spotify
Youtube
Beatport
ResidentAdvisor (Top 10 DJs)
Support from:
Devon James (W+O Street Tracks ● Country club disco)
Soundcloud
Anthony Zmoda

AIRPUSHER COLLECTIVE TAKEOVER 
If you are coming back from Burning Man and are missing the Playa vibes, we have the Airpusher Collective joining us on the top deck for a special sunset takeover! With the captain himself, Cptn Jay and Dancing Mandy!Come decompress with us!

PIZZA & TECHNO TAKEOVER 
As if that wasn't enough, we're bringing local legends, Pizza & Techno on board with us for a complete stage takeover. 
FEATURING:
NiQW (Dirtybird ● Night Bass ● MTWAT)
Facebook
Soundcloud
+ support from:
Willaa b2b IceCreams
MICHIØ b2b RIFFA
ANCHORZ UP will be sailing on Hornblower's luxurious San Francisco Spirit. Featuring three floors and two stages complete with VOID sound systems.
Tickets for this event will go fast.

Ticket Disclaimers:
This event will be filmed. 
* * Please be on time. The boat will not wait for guests. Set Sail @ 6:30PM SHARP * * 
Rain or Shine.
All ticket sales are final. No refund. 
Line up and set times subject to change without notice.
Prohibited Items:
Confetti, candles, glitter, open flame, silly string, water balloons, animals, outside alcoholic beverages, explosives, firearms, illegal substances, or articles of a dangerous or damaging nature. 
Sponsored bySF Station Made in the Mission, since 1996www.sfstation.com