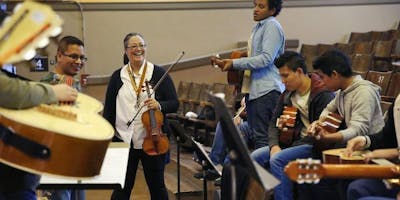 Bi-monthly Arts Education Policy Roundtable: The purpose of this forum is to provide timely information for arts provider organizations and individuals about activities and policies of agencies that support arts education programming in the Bay Area.
This month, we will be joined by Annie Yalon, Work Based Learning Systems Specialist for Career Technical Education at the San Francisco Unified School District. Media Arts is SFUSD's largest CTE Pathway and is in need of more arts-related partners to help support work-based learning throughout the year.
San Francisco public schools currently has 7 Media Arts Pathways and 3 Performing Arts Pathways across 8 different high schools in the District. In addition to paid internship opportunities, the district is looking for organizations and businesses who would be willing to host students for job shadows. Watch this video created in partnership with BAVC to learn more. 

photo: Photo: Leah Millis, The Chronicle Instrumental music teacher Sofia Fojas, center, laughs as she leads the mariachiclass at Mission High School March 11, 2015.