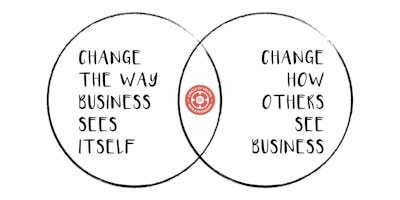 The Circle of Intrapreneurs is excited to have Tristan Kromer host a talk on corporate ecosystems and obstacles to social impact innovation to kick off the San Francisco Chapter's first speaking event of the year! Tristan Kromer is a lean startup coach and founder of Kromatic. His bio is below.
Join us at 5:30pm on Wednesday, June 12th at Stitch Fix HQ if you are interested in learning more about what it means to be a social intrapreneur and how to navigate organization environments. To learn more about the content of the event, Tristan, and The Circle of Intrapreneurs, read on! We hope to see you there!
Corporate Ecosystems and Obstacles to Social Impact Innovation Large companies aren't like startups, and copying their tactics can be frustrating and sometimes foolish. A big corporation is more like an ecosystem that has startups inside it, trying to survive. The CEO can't simply command innovation to occur and expect greatness. But we can change the ecosystem to support intrapreneurship and social impact. So should we build a program like GE Fastworks? Or just copy Intuit's Innovation Catalyst? All ecosystems are different and blindly copying a model from Silicon Valley can lead to disaster. Every company must take its strengths and weaknesses into account and design an innovation program to complement them. This talk will focus on how to map out your corporate ecosystem and identify obstacles to innovation that are putting the brakes on innovation.
About Tristan Kromer
As a lean startup coach and founder of Kromatic, Tristan works with innovation teams and leaders to create amazing products and build innovation ecosystems.
Tristan has worked with over 15 technology accelerator programs including government funded initiatives such as Innovation Norway, Vinnova (Sweden), Enterprise Ireland, NEST'up (Belgium), StartSmart (Estonia) and the Innovation Partnership Program (Vietnam-Finland). He has designed lean startup programs such as the Build or Die Bootcamp for TechBA (Mexico) and the Boom Reactor (Belgium) in addition to being part of Luxr whose Core Curriculum has been used by 13 accelerators internationally including Singularity University, 500 Startups, & The United States Innovation Fellows.
He has worked with companies ranging from early stage startups with zero revenue to established businesses with >$10M USD revenue (Kiva, Cancer Research U.K., TES) to enterprise companies with >$1B USD revenue. (Unilever, Swisscom, Salesforce, Fujitsu, LinkedIn)
Tristan regularly speaks, appears on panels, and gives workshops internationally with organizations such as the Stanford Center for Entrepreneurial Studies & D-school, Global Product Management Talks, Lean Startup Machine, General Electric (GE), and more.
With his remaining hours, Tristan volunteers his time with early stage startups and Lean Startup Circle, a non-profit grassroots organization helping to develop innovation ecosystems with meetups in over 80 cities around the world.
Originally from New York City, he has lived in Germany, Switzerland, Taiwan, Vietnam and currently resides in San Francisco, USA. He blogs at GrasshopperHerder.com.
To learn more about Kromatic, click here.