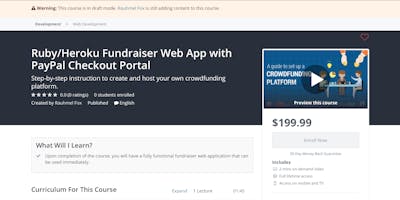 Welcome to the course for creating a Ruby/Heroku Fundraiser Web App with PayPal Checkout Portal.
Example: https://www.udemy.com/draft/1918098/?instructorPreviewMode=student_v4
Ruby on Rails is a popular web framework written in a dynamic, general-purpose programming language.  Previous coding experience is nice, however, this tutorial is for novices, as wells as expert developers.
The Rails framework assists developers to build websites and applications, because it abstracts and simplifies common repetitive tasks. Therefore, this course avoids the theoretical aspects of coding solutions. Instead, the emphasis is on completing an actual fundraiser web application like skihlz.com shown here that can be deployed to and hosted by Heroku for free and used immediately.  
Whether you're bootstrapping your startup, or seeking money from individuals up to $15,000 each, the limit for the annual gift exclusion, as determined by the Internal Revenue Service (IRS), keep in mind projects succeed because of the outreach by the creators themselves to their communities, and the creative rewards that they offer.  
In other words, your funding can come from your network of friends, family, a community of supporters, and sponsors, and perfect strangers.  If it's your goal to collect money online using PayPal, follow along to create a project step-by-step like I did for skihlz.com
My name is Rauhmel Fox, CEO, WHOmentors.com, Inc., a fiscal sponsor of nonexempt projects and organizations internationally.