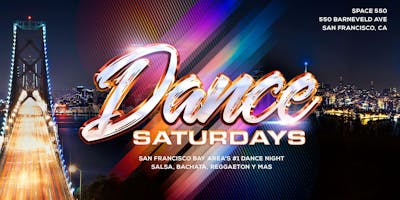 You are Invited to San Francscio's #1 Dance Destination - BRAND NEW Dance Saturdays! Early Bird Tickets, https://dancesaturdays-presale.eventbrite.com
NOTE: Save with Advance Tickets. Tickets are ALWAYS availabile at the door! Come out and Join the Fun. :)
Dance Saturdays, 550 Barneveld, SF, 21+ (with ID, and yes, ID is always checked). 7:30p Doors, 8p Lesson.
THIS SATURDAY - Beginning Dance Lessons with COREY RAYNOR at 8p, in both Begginning Salsa and Bachata, plus Intermedaite Bachata at 9p with Edwin Martinez & Ricardo Tellez (subject to teacher availability)!
Yes, up to 4 Dance Lessons, for multiple skill levels, with no partner required! Yes, it's for YOU.
Salsa DJ's: Jairo (Chino), Enri Franc and Obi-One, Thiencito, Carlos X and DJ Meli, Antonio and DJ Goodsho.
Salsa, Bachata, Latin Mix (Reggaeton Latin Dance Mix), Opens at 7:30p for Drinks, Dance Lessons at 8p.
3 styles of Dancing, Every Saturday Night - www.DanceSaturday.com (please find us on Facebook under "Dance Saturdays" for our most current schedules). 
Beginning Salsa and Bachata Dance Lessons at 8p, you'll love them).
Intermediate Salsa and / or Bachata at 9p with Ricardo Telllez and / or Edwin Martinez (subject to teacher availability). This week, we have Edwin Martinez, teaching Intermediate Bachata! 
Questions? Find "Dance Saturdays" on Facebook - we respond to messages quickly!
Every Saturday. No partner and No Experiecne Required! Fun and Social Beginning Salsa and Bachata Dance Lessons.
Schedule: Doors open at 7:45p, Mix and Mingle
Beginning Lessons in Salsa and Bachata at 8p
9p Intermedaite Dance Lessons (Back & Upstairs rooms - subject to availability)
9p Club Dancing Lesson (Upstairs)
9:30p Salsa, Bachata y Mas in 3 Rooms with 3 Separate Dance Floors!
______________
GET ON THE EARLY BIRD LIST FOR FUTURE EVENTS:
www.DanceSaturday.com
GET TICKETS FOR THIS SATURDAY, https://dancesaturdays-presale.eventbrite.com