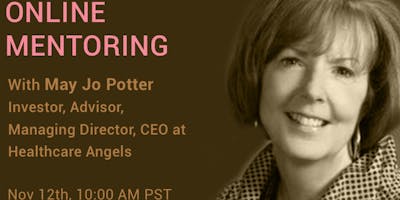 Join us for our inaugural Online Mentoring session with Mary Jo Potter, Investor, Advisor and Managing Director of Healthcare Angels on November 12th at 10am PST.Mary will answer all your questions on finding investors, funding for your startup with a focus on 'How to plan for an exit as part of fundraising for your startup'This is an online group mentoring event and has a limited number of spots. The event is  FREE for members of The Expat Woman Club. If you want to become a member, sign up here.  Or purchase a ticket on this Eventbrite page.
Mary Jo Potter has been an active entrepreneur and investor for 30 years. Having sold a business to McGraw Hill, she became active in angel investing in Chicago, and upon moving to the Bay Area, she joined Keiretsu Forum, where she has been a member for 18 years. She has invested in a variety of entities but is now focused on the healthcare sector. Mary Jo is now Managing Partner of Healthcare Angels, a GP in Keiretsu Capital, an LP in Purple Arch Ventures (Northwestern University's venture fund), and a member of HealthTech Capital.Mary Jo has held executive positions with BDC Advisors, Highperlink, Sibson, Omega, and Oxicon. Her clients have included Kaiser, Partners, Trinity Health, WEBMD, Sutter, and Genentech. She has held or is currently on many boards, including CHW/Dignity, CHI, Christus, UC School of Public Health, Hope Unlimited in Brazil, GTU, Hanna Center, Compli, Les Concierges, Jean Paul in France, the National Association of Corporate Directors (Northern California), Ocular Sciences, and the International Women's Forum.She has a bachelor's from Siena Heights University where she also sat on the Board, a Master's from Northwestern University where she is currently on the School of Education and Social Policy Board and has done an Executive program at Stanford in India. She is a member of Women Corporate Directors, the International Women's Forum, and the National Association of Corporate Directors. In her 'spare" time, Mary Jo enjoys tennis, cooking, traveling wherever airplanes fly and working with disadvantaged young people.
JOIN OUR COMMUNITY

Get updates about our events, community and more by joining The Expat Woman FB page, and signing up for our newsletter.

For job announcements and career tips or to post jobs or share your LinkedIn profile, join our Careers and JobSearch FB page.

To connect with other expat women and allies, join The Expat Woman Club

If you are interested in participating as a panelist, speaker at an online or offline event, please apply here.
PARTNER WITH US

If you are interested in sponsoring an online or offline event like a webinar etc, advertising your business, having a vendor/demo/business table at our event e-mail us at [email protected]

If you would like to hire from our network of diverse and talented professionals, post your job on our job board.
TERMS OF PARTICIPATION AGREEMENT
You agree that you are responsible for any accidents or damages that you cause. You also agree to not hold The Expat Woman, or any of the event supporters liable for any loss, damage, injury, or any other unforeseeable incident.
You agree The Expat Woman, is not responsible for circumstances that may necessitate for substitutions or cancellations of speakers.
By Participating in the event, you grant The Expat Woman permission to capture photo/video of the event.
By registering for this event, you also consent to receive email communication from The Expat Woman and its programs about events and updates that may interest you.
Tickets for this event are non-refundable. If you are unable to attend, you have the option of giving it to a friend or team member to attend in your place.