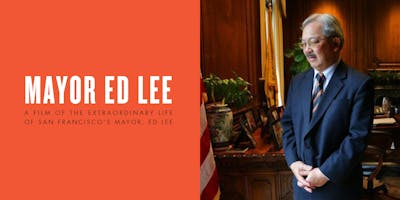 On February 11, 2019, join the Chinese Historical Society of America, director/producer Rick Quan, and the family of Edwin Lee for the World Premiere of the documentary film Mayor Ed Lee.
Join us at the Herbst Theatre (401 Van Ness St., San Francisco) to celebrate the inspirational story of this remarkable man, who grew up in Seattle's public housing and became the first Chinese American mayor of a major U.S. city. We will mark this occasion with two events:
1) VIP Reception  5-7pm
Meet us at the Green Room (upstairs from the Herbst Theatre) for refreshments & entertainment before the Film Premiere. Tickets to the VIP Reception include reserved seating at the Film Premiere.
Space for the VIP Reception is extremely limited. Reserve your spot today by choosing the "VIP Reception & Film Premiere" ticket option.
2) Film Premiere   8pm (doors open at 7:15pm)
If you would like to join us directly for the film premiere, reserve your spot by choosing the "Film Premiere Ticket ONLY" ticket option. (Please note that the Film Premiere Ticket DOES NOT include entry to the VIP Reception.) Film Premiere Tickets include general seating for the Film Premiere at the Herbst Theatre. Doors open at 7:15pm, film screening at 8:00pm.
** Presale for early film supporters, sponsors & CHSA members through January 9, 2019. Tickets available to the general public after January 9th. **
CHSA Members are eligible for discounts to both events. Please contact [email protected] for details.
Photo: Jim Wilson/NY Times/Redux. Used with permission.
About the film:
On December 12, 2017, the City of San Francisco lost its beloved mayor, Ed Lee, unexpectedly and far too soon. 
The Chinese Historical Society of America (CHSA) is proud to present the documentary film Mayor Ed Lee, which chronicles, documents, and preserves the memory of Ed Lee for future generations. Discover the life and character of this seemingly ordinary man, the son of working-class immigrants who grew up in Seattle's public housing, became a San Francisco Chinatown lawyer, champion of civil rights and equal opportunity, and the first Chinese American mayor of a major U.S. city.
CHSA has partnered with Bay Area broadcaster and Emmy Award winner Rick Quan to produce the hour-long documentary. The project has the blessing and active support of Mayor Lee's family, to whom he was very devoted. The film contains stories and reflections from Lee's daughter's, mother and other family members, childhood pals, former mayor Willie Brown, current mayor London Breed, Golden State Warriors star Stephen Curry, former Washington governor and U.S. ambassador to China Gary Locke, colleagues from the Asian Law Caucus, Chinatown community and City Hall, among others.
This project was made possible thanks to the tremendous support of our GoFundMe donors and generous sponsors.
Please view and share the latest trailer: https://vimeo.com/306902100