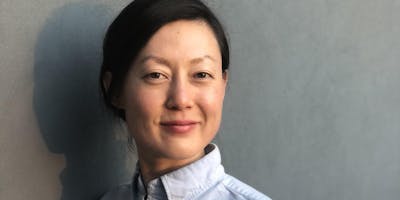 Curatorial Research Bureau presentsOpen Seminar with Nancy LimTuesday, April 16, 2019Yerba Buena Center for the Arts701 Mission St. in SF10am
Nancy Lim, Assistant Curator of Painting and Sculpture at SFMOMA, talks about her curatorial practice including a look at recent and forthcoming exhibitions.
Open Seminar creates opportunities for the graduate academic seminar to step into the public realm, with faculty, students, and visiting practitioners deciding how to intersect the typically reserved seminar format with a broader selection of invited attendees from the arts and culture scenes in the Bay Area.

About Nancy Lim 
Nancy Lim is assistant curator of painting and sculpture at the San Francisco Museum of Modern Art, where she focuses on postwar and contemporary California art. She is co-curator of the forthcoming exhibitions Mythos, Psyche, Eros: Jess and California (2019) and the 2019 SECA Art Award, as well as a Deborah Remington survey opening at di Rosa Center for Contemporary Art in spring 2020. She also contributed to the retrospectives of Bruce Conner (2016–17) and Vija Celmins (2018–19), and has organized collection exhibitions including Between Two Worlds (2017–18) and Stranger in a Strange Land: Art of California (2018). Prior to SFMOMA, she served as Asian Art Curatorial Fellow at the Guggenheim Museum, and as Curatorial Assistant in the Department of Painting and Sculpture at the Museum of Modern Art, New York.

About CCA's Graduate Program in Curatorial Practice
CCA's Graduate Program in Curatorial Practice is newly relocated to Yerba Buena Center for the Arts, a dynamic arts institution in downtown San Francisco. The move projects learning beyond the walls of the academy, taking advantage of the rich cultural context of the Bay Area and providing a unique environment for training curators. Graduate seminars are held at YBCA inside the Curatorial Research Bureau, a combined bookshop, academic site, and public program where students intersect with changing book inventories, participate in programs, and meet visiting practitioners from the Bay Area and beyond. CRB is administered by California College of the Arts Graduate Program in Curatorial Practice in partnership with YBCA and Bureau for Open Culture, a curatorial initiative forging intersections among art, design, education, and consumer culture while pushing against the traditional ways in which institutions engage audiences.
About California College of the Arts
Located at the center of innovation and technology in the San Francisco Bay Area, California College of the Arts is home to a world-renowned faculty of practicing artists and entrepreneurs, and a diverse community of makers that are boldly reimagining the world. Offering 22 undergraduate and 11 graduate programs in fine arts, architecture, design, and writing, CCA's creative culture is built around the ideals of interdisciplinary collaboration, sustainability, and community engagement.
About Yerba Buena Center for the Arts
Yerba Buena Center for the Arts is one of the nation's most innovative arts institutions. Founded in 1993 as the cultural anchor of San Francisco's Yerba Buena Gardens development, YBCA's work spans the realms of contemporary art, civic engagement, and public life. By using culture as an instrument for social change, YBCA is reimagining the role an arts institution can play in the community it serves.