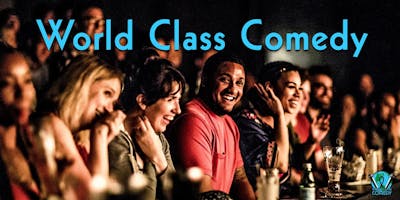 Like to laugh? Like to drink fine wine, cocktails, and eat delicious steak dinners? Well come to "World Class Comedy" live at Hammertime on Polk Street! Every Wednesday we showcase some of San Francisco's best local comedians along with headliners that have toured the world. Past headliners have performed for the USO Comedy Tours, Melbourne Comedy Festival, Edinburgh Comedy Festival and more internationals events.
About the Producers:
World Class Comedy Night is produced by Bay Area Comedy Collective #HellaFunny. #HellaFunny produces comedy shows throughout the Bay Area 7 nights a week in venues including Cobbs, Punchline, the Great Star Theater, Milk Bar, Starline Social Club, Slate Bar, Eastside West, the Neck of the Woods and more. Comedian and CEO of #HellaFunny, Stroy Moyd, is 10 year veteran and has been seen on Tech Crunch, Vox, Complex News, Good Morning America, NBC Nightly News and Viceland. 
Frequently Asked Questions:
Has anyone famous ever performed at a HellaFunny Show? - Yes indeed! HellaFunny has been able to attract talent of national headliners such as Hannibal Buress (Broad City), Mike E. Winfield (The Office), Jermaine Fowler (ABC's Superior Donuts), The Lucas Brothers (Netflix Special "On Drugs"), Kabir Singh (Comedy Central and Writer for "Family Guy") and many, many more. 
What time should I arrive? - We suggest everyone arrive at 7:30pm. 
Is there an age limit? - Yes, 21 and up. 
How's parking? - Little street parking is available. However, we suggest using Lyft or another ridesharing app.
Is there a dress code? - Dress to impress! We do not have a strictly enforced dress code.
We do have a two drink minimum at this event. Thanks!