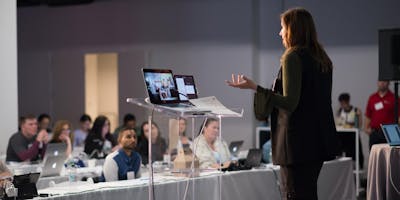 Zendesk Training Days in San Francisco on December 3, 4 & 5.
Training Info:
Tuesday Dec 3: Zendesk Support for Admins, I and II Training (Agenda) 
In this full day track, you'll learn the key features of Zendesk Support including User roles and permissions, Views, Macros, Triggers, Automations, SLAs, Ticket and User fields. Equally important you'll also learn how to configure them and use them in combination so that you meet your business goals--whether you're a small organization or a large enterprise. The sessions will consist of presentations, hands-on exercises, breakout groups and teamwork, plus plenty of time for Q&A so that you get your most pressing questions answered. And you'll walk away a lot more confident about how you should set up (or clean up) your Zendesk Support.
What you'll learn (Learning objectives):
Login and navigate the dashboard
Review a ticket and its properties
Use ticket fields to gather information
Use shared views to enhance agent productivity
Use shared macros to boost agent efficiency
Define agent access in Zendesk Support
Use groups to improve agent workflow
Use organizations to provide targeted customer service
Use event-based triggers to save your agents time
Use time-based automations to reduce agent workload
Explain how schedules and SLAs can be used to meet business needs
Wednesday Dec 4: Advanced Topics in Zendesk Support, I and II Training (Agenda) 
Have you already taken Zendesk Support for Admins I & II? Are you eager to build on your knowledge and optimize your Zendesk? In this full-day track for admins, you'll learn in greater depth about some of our most frequently asked about features. In the first part of the day, you'll learn more about how to add and manage your end users with our user permissions and authentication features as well as how to manage your queue with merge, deletion and recovery. You'll then turn to business rules, diving into triggers, automations and SLAs and how to use them with other features. As we explore those topics and answer your questions, you'll learn how to meet the needs of your use case our best practices in hand. This session is meant for users who have been using Zendesk for sometime and want to deepen their knowledge, but it does not include technical training or analytics. It's also an ideal refresher for anyone preparing for the Zendesk Support Certification Exam for Administrators. Strongly recommend first taking: Zendesk Support for Admins, I and II.
Add and manage your end users
Manage your queue with ticket merge, deletion and archiving
Recover suspended tickets
Manage and modify how your customers access and authenticate into your Zendesk
Build and manage triggers to leverage different features and support your workflow
Build schedules and set the schedules of tickets
Create SLAs so that your operations align with your customers expectations
Thursday Dec 5: Zendesk Explore, I and II Training (Agenda) 
If you're new to Explore, this is the event for you! In this full day track, you'll learn the key features of Zendesk Explore, our robust analytics product. You'll start the day learning how to navigate Explore and its pre-built features, then you'll move on to creating custom queries and dashboards for your business. In the afternoon, you'll take it up a level and learn how to create a dataset as well as how to use results manipulation and calculations to create even more targeted reports that are tailored to your use case. Note: Prior to attending this event, customers must activate Explore in their accounts (or in a trial) and make sure that it is populated with some ticket data
Get to Know Explore
Navigate Explore and its Pre-built Dashboards
Create Custom Queries
Add, Customize and Share Dashboards
Create a New Dataset
Clone a Query to Your Dataset and Customize it
Use Results Manipulations to Change Your Query Results
Create Queries Using Calculations
Use Advanced Filters on Your Dashboard
How will the sessions be structured? 
All sessions at Zendesk Training Day events are interactive. They'll include demos, hands-on exercises, and lots of lab time and Q&A with our trainers and customer advocates. Don't forget your laptop! We will be providing food. After the event, you will receive your own copy of the training materials. Training day events will take place from 8:30am-5:00pm.
Cost for Training and Certification add on: 
Training: $499 per training day ticket (early bird price). This is effective until November 8. After this date it will change to our regular price $599 per training day ticket.
Add On: Support Admin Certification for $250 ($100 off retail) when purchased with training day ticket. After the event, an exam voucher will be emailed to you which can be used to take the exam online or at a nearby testing center for up to 12 months from the issue date
Unless already sold out, ticket sales will end on November 25.
For questions email: [email protected] 
What's the refund policy?
In the event that a refund is needed, you'll receive a full refund up to 7 days prior to the event. After that point (when we have 6 days or fewer to go before the event) you may transfer your ticket to a friend or colleague and change the name on the registration, but no refund will be issued.