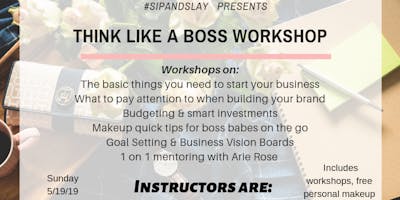 #SipandSlay presents "Think like a boss" workshop for all the bay area boss babe entrepreneurs!!! 
At this #SipandSlay we will include workshops along with talks so that when you leave you have a clear guide as to what it is that you need to do in order to begin your own business/brand. We have some amazing instructors that will all teach you something different depending on where you are at in your business journey! 
Some of the following workshops are: 
The basic things you need to start your business
What to pay attention to when building your brand
Budgeting & smart investments

makeup quick tips for boss babes on the go
Goal Setting & Business Vision Boards
PLUS you will be able to sign up for a 10 minute one on one with Arie Rose.
You will not only learn about apps, free sites, logos marketing, etc... but you will also learn how to show up looking like a boss while doing it all on a budget! 
All of your instructors are successful boss babes who have made mistakes and learned from them in order to become successful in various avenues.
@Dollhousemermaid - Celebrity makeup artist
@iamarierose - Author & Branding instructor
@Beautypeacock7 - Beauty expert & entrepreneur
@ErikaKclark- Co-Creator and business manager for Shan Cosmetics 
@griseldasoto- Entrepreneur 
If you have any questions email [email protected]
Vendor Booths available!