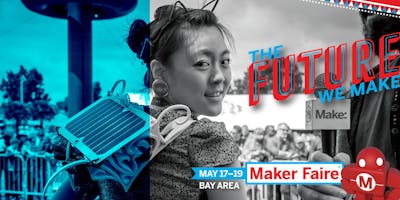 MAKER FAIRE VOLUNTEERS 2019
Maker Faire has always needed the help of volunteers and this year's The Future We Make is not different...however the program is!  
Welcome to the NEW Maker Faire Volunteer Program.  You still have the opportunity to earn entry into Maker Faire, collect some cool stuff and have a great experience, we are just organized in a new way.
HELPING HANDS
In order to help with ANY of our Helping hands positions, you must be able to:

Be outdoors for the duration of the shift.

Represent Maker Faire with a positive, can-do attitude.

Work well with guests and/or team members throughout the shift.

Lift ~25lbs.

If you need accommodations for any of these skills, please alert our team and we will find the position that fits best.

Helping Hands Positions:

Transportation - There are many ways to get to Maker Faire.  Help make sure the event stays safe.

Traffic Flow - Lots of people come to Maker Faire!  Support the ease those who are in the area of the Faire.

Maker Helpers - Sometimes Makers just need some extra hands, positions vary!

Information Booth - People always have questions about getting around the Faire.  You don't have to know everything, but be willing to help people find what they are looking for.

Event Help - The Faire is a big undertaking and takes many hands, so come lend yours.  This is for folks who are willing to help anywhere.

The Shifts:

Thursday, May 16th: 11:00 am - 4:00 pm

Friday, May 17th: 12 pm - 5 pm & 4 pm - 8 pm

Saturday, May 18th: 9 am - 1 pm & 12:30 pm - 4:30 pm & 4 pm - 8 pm

Sunday, May 19th: 9 am - 1 pm & 12:30 pm - 4:30 pm & 4 pm - 8 pm

You Give:

Review all Maker Faire Volunteer Overview and Position Overview docs

Arrive on time to work your 4-5 Hour Shift onsite

You Get:

2 tickets to Maker Faire!

A volunteer credential

One vintage swag item

10% SHED discount

Access to Snack Paradise