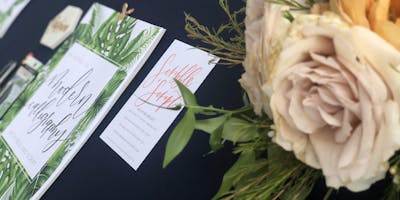 Do you like vino? Do you like Sunday Funday? How about Modern Calligraphy? Not so sure about that last one? COOL, SIGN ON UP!
I am Shelley Borcherding, owner and head calligrapher of Scribble & Script. The Modern Calligraphy craze is every where you look, so come learn the fundamentals of this fancy font in my Introduction class. Through three hours of instruction (I know it sounds like a lot but it goes by so fast!), I cover all of the basics needed to get started on your hand lettering journey, from building capital AND lower case letters, basic letter connections, and styling. This interactive class setting gives you the opportunity to have FUN while learning a new skill. You also get to sip on some delicious KRW wine in a beautiful vineyeard setting!
So what's included y'all!?

12 page Practice Workbook printed on premium lettering paper 

10 Sheets of Preimuim Tracing Paper and Clip Board

 Complimentary Glass of Wine provided by Kings River Winery

Tombow Fudenosuke Soft Tip brush pen

Mirado Matte Black No. 2 Sketching Pencil 

 Sharpie oil based paint pen 

Canvas Tote Bag to letter on and keep as an end of class craft 

Personalized Place Setting

Delightful banter and fun loving environment 

I know, right? SOUNDS AWESOME. 
See you there, future amazing letterers! 
*Cancellation Policy* I get it, things happen. I have a newborn, 4 and 6 year old- I've been there. However, I put a ton of love and work into prepping your workshop stations, so cancellations must be made 7 days prior to the class in order to receive a refund. If cancellations are made after the 7 day mark, we can make arrangements for you to pick up your workshop supplies up to 2 days after the class has taken place. Tickets are NON-transferrable, meaning you CAN NOT change your class to a different date without requesting a refund and purchasing a separate ticket. Don't even ask, don't make it awkward. 
If you miss the workshop without notice, you are not eligible to receive your supplies OR come to another class free of charge. If Justin Timberlake had a concert you missed, would you email him to see if he'd let you come to the next one instead? I think not.
*Also not suggesting I'm as cool as JT, but you get the comparison.

Interested to see what others thought about the class? Check out my reviews below!
"The class was just what I wanted...I felt so empowered and ready to go when it finished!  I can't wait to take my lettering to the next level.  Shelley is patient and encouraging...loved everything about it!!" -Rachel
"Tonight my sister and I attended the Intro to Modern Calligraphy Class and it was worth every penny and then some! Thank you, Shelley! Can't wait to get practicing!!" -Valerie
"Great class--so relaxing and made it feel easy." -Jaclyn
"My girlfriend, Kas and I attended Ms. Shelley's Intro to Modern Calligraphy class and we're HOOKED! We had tons on F.U.N. and looking forward to taking future classes. What an amazing gift! xoxo #addicting" -Rosalind
"Class was amazing!! So much fun!! A must take!!!" -Ashley
"Attended an intro class last night and had so much fun! Shelley makes things fun, upbeat, and entertaining while you learn her craft. Well prepared and very hands-on... Can't wait to keep practicing and take another class!" -Monica

 
FAQs
 
Are there ID or minimum age requirements to enter the event?
Though there is alcohol being served, there is no age requirement! We have had kids as young as 6th grade come to workshops and fully enjoy themselves.
What can I bring into the event?
 Nothing is required of you! You are welcome to bring in your own snacks and drinks if you're not a wine person.
What's the refund policy?
Please see explanation above!
Do I have to bring my printed ticket to the event?
Nope! I'll have your first name on your place setting so that keeps attendance in line.
Is my registration fee or ticket transferrable?
It is NOT. If you miss the workshop last minute, the ticket is NON REFUNDABLE. If you ask to come to a different workshop date, you need to request a refund within the appropriate amount of time and then re-purchase a ticket for the desired class date. 
Is it ok if the name on my ticket or registration doesn't match the person who attends?
I do need to know the first names of all attendees to customize your gift bags, so if you go by something other than the name you register with, please send me an email to [email protected]