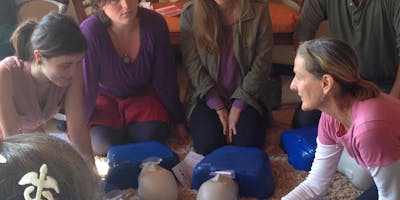 Happy Swimmers and JTA Mobile CPR has 25 yrs experience training people in CPR and First Aid.
If you need to see other dates for our public classes, feel free to stop by our calendar at: http://www.happyswimmers.com/cpr-training/public-class-calendar-for-individuals/
Interested in how to perform CPR, First Aid, or assist someone who is choking? Need to update certifications for work or personal life?
The average response time in LA County for an Ambulance is 8-10 minutes. The time it takes the brain to die is 6 minutes. Every second counts and CPR makes it count!

Class length 3 hrs total--for the time to go to and watch an epic movie: you can save a life!

Covering CPR, Choking, AED and Pediatric-Adult First Aid.

90% is hands-on course time, no boring lectures here!

We offer American Red Cross certs for professional licensees (Massage Therapist, Child Care, Medical techs, etc.)
$84.00 (includes course plus the upgraded Red Cross Cert Card)
PLEASE NOTE THIS COURSE IS BLENDED LEARNING (Part online before class 2hrs , and a lot of great hands-on practice in class)  This way we save a lot of time in class, and allow you to do the online learning on your timing, as long as it's done BEFORE class.  Access is FREE! Once you click the link use your email to sign-up then proceed with the modules at your own pace." Use the same email you want your certification sent to after our in-person class. Happy E-Learning!  
https://www.redcrosslearning.com/course/301040f0-c611-11e6-981d-bb8e5751112f
By Red Cross standards, YOU MUST bring a copy of the certificate you receive for completing blended learning to show the instructor at class (either on your smartphone or a hard copy).  If you don't have that with you, we will need to reschedule you to another class.  Rescheduling is only allowed once.
Welcome to CPR done fast, fun, and with ~~sizzle~~
Katie and the crew of JTA Mobile CPR
See what people are saying about us on YELP!
https://www.yelp.com/biz/jta-mobile-cpr-training-encino
Please plan on arriving to class 15-20 minutes early.   Students who arrive more than 10 minutes late for class cannot be admitted.  Our classes cover a large amount of material, and we need the full time allotted for all students. If you are late for class and have not already rescheduled a class, you will be allowed one opportunity to reschedule.
Refunds up to 7 days prior to class are given automatically when needed directly from the Eventbrite webpage from which you booked your class.
Within 7 days of class, if you find you cannot attend the class, no refunds are given at that point, however, we will transfer you ONCE to a future class within 2 months of the original class.  If asked, please provide a copy or your initial class receipt.  That will mark the 2-month credit window.  More than one transfer/rescheduling will not be allowed.  Being a no-show with no contact to our office prior to class will lose the credit to transfer.
For more information you can email our customer support at [email protected] 
California Customer Support 1 (818)530-4117
USA Support 1 (866)530-4117