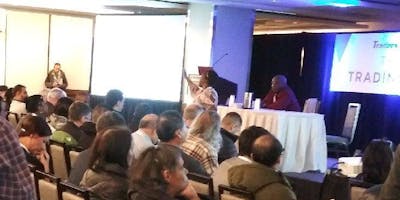 Epic One Day Workshop For Women ready to make power moves in the stock market.  
Your potential for greatness in the stock market depends on you and whether you are ready to give it 100%.
There comes a time in every woman's life when she's gotta live different, live her own dream.
Have you always wanted to trade the stock market, yet didn't know where to turn for good, solid information?
For all the women in L.A. ready to make power moves in the stock market this is for you.  Learn how to trade commodities, indices and currencies in the futures market.  
Day Trading is fun.  It's not a hustle or a side hustle.  It's what I do and I teach women how to do it too.  I'll teach you what you need to know.  Read more about me in the bio.  For now, here's what you'll be doing in this Epic One Day Workshop:

Learn what the stock market is about and how to trade it.

Learn what it takes to get started trading Commodity futures.

Learn rules & regulations of being an active day trader.

Learn what is day trading?

How to set up powerful trading strategies that produce results.

Learn the basics of how to read a price chart.

We will be looking at the "live" market.

Learn what your numbers could look like long term trading.

Learn how to choose a broker and trading platform.

And so much more...

You are welcome to bring your laptop.

Visit our website:  The Empress Day Trader
When:  October 11, 2019 (more dates to come)
Where:  312 Arizona Ave.
Parking:  validated
Time:  8:30 am (check in) - 9:00 am - 4:00 pm workshop/seminar
What to bring:  Your enthusiasm, your laptop, journal 
Cost:  $695
Visit our website:  The Empress Day Trader
Call for details & registration:  (678) 400 - 2272
Or you can register on the website.
Registration closes Tuesday prior to the workshop.  15 seats available.  Give me a call.