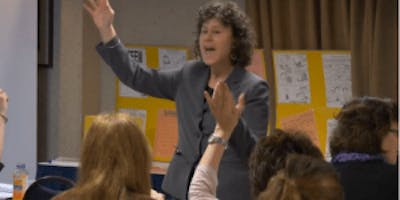 Breakthrough Strategies to Teach & Counsel Troubled Students
Workshop Content
Bring your most serious "kid problems" with you
to the next Breakthrough Strategies to Teach & Counsel Troubled Youth Workshop, and you'll receive hundreds of practical, problem-stopping, ready-to-use K-12 behavior and classroom management interventions on the spot. This inservice workshop effectively and thoroughly delivers the best answers for your students' worst social, emotional, behavioral, and classroom management problems.
The Breakthrough Strategies to Teach & Counsel Troubled Youth Workshop equips you with 200 ready-to-use, more effective strategies to turnaround defiant, unmotivated, difficult, truant, violent, conduct disordered, oppositional, emotionally disturbed, depressed, non-compliant, learning disabled, and withdrawn youth and children ages 5 through 18.
The SpeakerWiki and SpeakerMix Top 10 educational workshop zeros in on your most serious and persistent student behavior problems and then transforms you into a walking encyclopedia of the newest and best interventions that exist. The course instructor is veteran professional development speaker Ruth Herman Wells, M.S. View video of speaker Ruth Herman Wells.
This powerful professional development workshop floods you with  innovative solutions that are more effective than conventional approaches. Counselor, juvenile justice, social work, foster care, and teacher workshops just don't get any more practical, intense and useful than this popular event.
If you teach, work, counsel, mentor, foster parent, or case manage children and youth who struggle socially, emotionally or in school, you will use every word of this powerhouse workshop. This professional development workshop won't waste a second of your time. Every minute is filled with strategy after strategy, all designed to prevent or better manage student behavioral, emotional, social and in-school problems.
In the first minutes of the workshop, you will be asked to name the specific problem areas and ages that you want to cover.. You'll walk out the door at the end of the workshop with 200 powerful, problem-stopping answers.

The course workbook (shown here) includes behavior and classroom management strategies and resources from our popular books, including our best selling Temper and Tantrum Tamers. On this page you can also see some of the reproducible, ready-to-use student behavior improvement worksheets you will find inside your course workbook. You will also receive cutting-edge, behavior and classroom management lesson plans full of activities, strategies, methods, and tools to rapidly facilitate change in even your most hard-to-reach students.
Teachers, counselors, social workers, psychologists, principals and juvenile court workers have travelled from Japan, Australia, Norway and Guam to attend this one-of-a-kind professional development workshop.
Other youth professionals have criss crossed the U.S. to attend, or braved winter snow storms to attend the Breakthrough Strategies to Teach & Counsel Troubled Youth Workshop. Still other dedicated educators and mental health workers have spent hours stuck in traffic in order to attend, only to later write on their evaluation forms that the class was "still well worth the trip."
SPEAKER
Ruth is your trainer for the Breakthrough Strategies to Teach and Counsel Troubled Students Workshop. Ruth won't waste a second of your time. She packs every minute with the exact behavior and classroom management strategies you need. You're not going to believe how much useful information can be packed into a single behavior and classroom management workshop.
By the end of this workshop, you're going to feel like you have a mental health expert standing with you in your classroom or office, guiding you every step of the way. You're going to feel like you have the targeted, real-world behavior management interventions that weren't included in your professional training.
Ruth Herman Wells is one of the country's top experts on student behavior problems, group and classroom management, school violence, work refusal and children's mental health.
For nearly two decades, Ruth has trained thousands of youth professionals annually. She is a popular keynote speaker and featured presenter at national education, justice and mental health conference events.
In 2011, SpeakerWiki ranked Ruth as the #4 trainer for elementary education events, #8 for K-12 educational administrator events, and #9 for high school educators. She is a longtime, featured columnist for SEEN Magazine, and her popular behavior change posters have "starred" in the Diary of a Wimpy Kid movies, and on many U.S. and Canadian TV shows.
Ruth is the author of dozens of behavior and classroom management books and articles on children's social, emotional, family, and behavior problems. Ruth's work has been featured in The Orlando Sentinel, Monterey Herald, The Oregonian, Adolescence Magazine, The Corrections Compendium, and the Child Welfare Report. Her methods are designed to work when conventional approaches fail. Her most popular books include The Breakthrough Strategies to Teach and Counsel Troubled Youth series and The Quickest Kid Fixer-Uppers.
Want even more extensive background information on our professional development instructor, Ruth Herman Wells, M.S? She lives up to her reviews. Click or scroll further down the page or click here to read what past inservice participants say about her, or click here to read their actual evaluation comments, emails and letters to Ruth. See Ruth for yourself on video. Click here to read more about Ruth's background as a child therapist, juvenile corrections program supervisor, adolescent day treatment program supervisor, and independent living program creator. You can also read more about Ruth's popular, problem-stopping Breakthrough Strategies to Teach and Counsel Troubled Youth behavior and classroom management workshop.

Ruth knows your students and your site. She cares about you and your students. She'll flood you with the newest and best solutions that exist to reach even your most unreachable youngsters. You bring the problems. Ruth will bring your answers.
Please contact the event manager Marilyn ([email protected] ) below for:- Multiple participant discounts- Price quotations or visa invitation letters- Payment by alternate channels (PayPal, check, Western Union, wire transfers etc)- Event sponsorshipsNO REFUNDS ALLOWED ON REGISTRATIONSService fees included in this listing.-----------------------------------------------------------------This event is brought to you by:Youth Change Workshops - NewYorkEventsListhttp://www.NyEventsList.comhttp://www.BostonEventsList.comhttp://www.SFBayEventsList.com-----------------------------------------------------------------JSM190422CEV