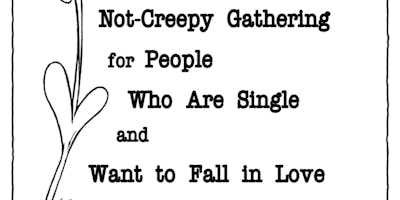 9/21"The Not-Creepy Gathering for People Who Are Single and Want to Fall In Love" Ages 40's & BeyondCurated & produced by Jenna Bean Veatch
Not-Creepy events website
Also on sale:
9/19 "The Not-Creepy Gathering for People Who Are Single and Want to Fall In Love" Ages 20's-40's
10/12 "The Not-Creepy Gathering for People Who Are Single and Want to Fall In Love" ALL AGES

[As heard on KUOW & seen on King5, The Evergray, & Seattle Times ]
Curated & produced by Jenna Bean Veatch
"While Veatch is hesitant to give away what exactly will be on the roster for those who show up with a desire to find a love connection—whether they're gay or straight, young or old, black or white, Democrat or Republican—she notes that it will be a structured event involving things like writing exercises, opportunities to talk one-on-one, and chances to present oneself to the entire group. (If you're coming, you should also be sure to bring along a notebook.)" - Cascadia Weekly
From past attendees:
"This is like benevolent counter-culture."
"You made a potentially awkward night super fun!" 
"I left feeling more connected to my community and more connected to myself."
"I so appreciate you holding this space, and bringing depth, light-heartedness and hope to so many people."
"Thank you SO much for organizing the event. It was a lot of fun, and I even left to grab drinks after with a new friend!"
"A heart-felt thank you for the invitation and space to be safely me. Thanks to your helpful crew, too! Let's keep doing this good work--the world needs us!"

About this structured, participatory, social practice art event:
"Are you a nice person who just wants to meet another nice person?This event is for you!Wanna know what it would look like if an artist came up with an antidote to cruise-y bar scenes and soulless dating apps?Come find out!"What if I'm gay?"That's great!This event is not just for straight people. "Aw, I do want love, but I'm too old."No you're not!This event draws adults of all ages.Are you scared?It's okay. Me, too.Let's be scared together.This structured, participatory event is all about connection. It's fun. And surprising. And weird! And real. People come not to judge or be judged. They come to connect -- meaningfully and genuinely.Bring a notebook!"   
-Jenna
@ Fremont Abbey Arts Center
5-7p event, 4:30p doors
To support equitable access, tickets are sliding scale online. Please pay what you can to support community events$5 Discount (limited quantity), $12.50 Regular, $20 Awesome Supporter (thank you!) (not including ticket fees)
21+, partly seated + standing room & movement during the eventEvent is limited to approx 100 peopleWe offer an online waiting list once tickets are sold out
Cash/credit bar & concessions available at most events (tonight is non-alcoholic refreshments only)
Note: Your email will be shared with Jenna the event curator for followup purposes only and will not be sold.  You may also be added to the Abbey Arts email list which has an easy single click opt-out option. 
-----------------------------------------------------------
ABBEY ARTS EVENT INFO:
- Fremont Abbey is ADA accessible on either level.- We have a mix of normal chairs, some tall chairs, and standing room in back.- Arts Connect provides free tickets for nonprofit workers, low income families, and veterans to attend concerts- Volunteer opportunities are available for most shows (include free entry) www.fremontabbey.org/volunteer- Entering the venue indicates agreement to adhere to the Abbey Respect Policy. All are welcome. No hate speach, no weapons. www.abbeyarts.me/respect
-----------------------------------------------------------
ABBEY ARTS, SEATTLE | NONPROFIT 501C3, NON-RELIGIOUS, EST. 2005Presenting welcoming music, arts & cultural experiences for people of all ages & incomes.
We support low income families, veterans, and humanitarian nonprofit workers with free event tickets. http://www.fremontabbey.org/artsconnect  
Venue rental info & more: http://www.fremontabbey.org/rent Concert & events calendar: http://www.abbeyarts.me
 Home Venue: Fremont Abbey, 4272 Fremont Ave North, Seattle, WA 98103 / 206-414-8325 Ballard Homestead: 6541 Jones Ave NW, Seattle
All ticket sales are final unless noted.