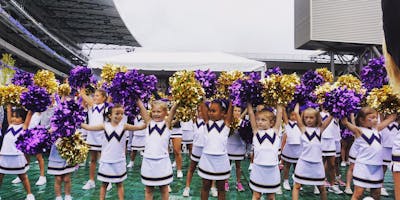 We are excited to announce the dates for our Fall Pup Squad! Your child can wear an authentic uniform with their very own pair of poms, attend cheer and dance practices, and perform alongside UW Cheer and Dance in Husky Stadium at a Husky Football game, and Alaska Airlines Arena at a UW Volleyball game. Your athlete will have the opportunity to attend 3 practices and perform at 1 Husky Football and 1 Husky Volleyball game. 
Qualifications:
This session of the Fall Husky Pup Squad is open to all youths ages 5-7 and is limited to the first 100 registrants. All participants are recommended to attend all practices and performances. Routine material will also be available online after the first practice.
Fall Practice Schedule:
All practices will be held at the University of Washington Alaska Airlines Arena (3870 Montlake Blvd. NE – Seattle, WA 98195-4070). Please wear comfortable clothing, sneakers, and bring a water bottle, as we will be working hard while having fun. Practices are scheduled for the following dates:
Tuesday, Sept 3 - 6:30pm - 8:00pm
Thursday, Sept. 5 - 6:30pm - 8:00pm
Volleyball Performance Practice - TBD

Fall Performance Schedule:
Two performances are included in the fall season. Your child will perform at the following UW Athletic Events:
Saturday, Sept 7- UW Football vs. California
Performance in Husky Stadium during a timeout

Volleyball performance TBD
Performance at Halftime

Fall Season Cost:
The program fee is $300 per child. This fee covers everything listed below. If you are a returner and would like to use last year's uniform enter the code "PupSquad" to receive a discount.  After registration is closed all purchases are final and no refunds will be given. 
UW Husky White Uniform
Authentic UW Pom Poms
Participant Game Ticket
Game Day UW Face Tattoo
Hair Bow
Routine taught by UW Cheerleaders along with other Cheer Technique
*Spectator tickets can be purchased at $35 for UW Football.
*Spectator ticket can be purchased at $5 for UW Volleyball.