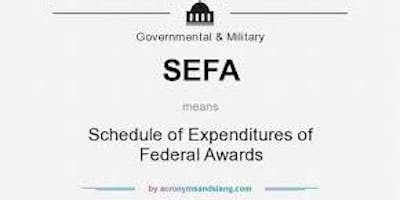 This course will provide complete instructions on preparing a SEFA.
Intended Audience: If you are new to the County and/or new to the role of SEFA preparer, please register for this workshop..
This workshop is intended to give the attendee a detailed description of what the SEFA is, why we need to develop it, where to locate it, how to run it, who runs it and when!
We encourage you to also attend our Overview class where we will be looking at your prelimary SEFA and answer questions on them - https://www.eventbrite.com/e/overview-and-practice-fy18-sefa-development-workshop-tickets-73867267987
If you feel as if you want more advanced kinowledge, prepare to register for the Advance course - https://www.eventbrite.com/e/advanced-sefa-development-workshop-tickets-73856993255