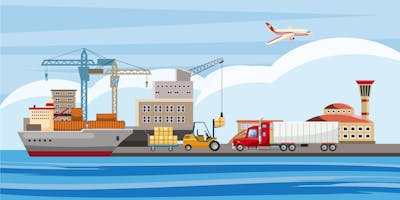 Creating Export Success with Jim Foley
This Export Course will Help You:
 Learn details of export procedures
 Understand when your company should expand internationally
 Formulate an export strategy
 Overcome common mistakes made by beginning exporters
 Identify and target high-potential markets with proven market research methods
 Adapt your marketing strategies for international success
 Build expertise in export terminology
Schedule one-on-one sessions for day 2 with industry experts
Why Export?
 Ninety-five percent of the world's customers and the fastest-growing markets are outside U.S. borders.
 Businesses that export grow faster, stay in business longer and see more sales growth.
 Exporting helps your business ride out economic downturns and enjoy more financial stability.
  Exporting creates jobs and drives economic growth.
 Washington provides one of the world's leading trade and logistics hubs, with major ports and an outstanding transportation infrastructure.
 
Day 1 (instruction): 8:30am – 4:30pm
Location: Seattle, WA
Venue: TBA, will be announced by February 2019
Day 2 (optional one-on-one session)*: 8:30am— 5:30pm
Washington State Department of Commerce Office
2001 6th Avenue, Suite 2600 Seattle, WA
*One-on-one session slots are limited. Must schedule in advance. Contact Zara Castillo at [email protected] for details
 
About the facilitator: Jim Foley is Director of the International Trade Center and the Turner Center for Entrepreneurship/ Operations and International Trade at Bradley University in Peoria, Illinois. Jim is the author of The Global Entrepreneur: Taking Your Business International and co-author of International Marketing, one of the landmark textbooks in international marketing. He has worked for over 20 years in international marketing, sales, and corporate management. Prior to joining the trade center in 1994, Mr. Foley lived and worked in Europe for seven years. His overseas business experience includes positions in marketing, sales, and corporate management in the computer industry.
Cost: $45.
Cost includes: reference materials, parking, morning refreshments and lunch
This training usually costs $400 but is funded in part through the State Trade Expansion Program (STEP) Grant awarded by the U.S. Small Business Administration.
For questions, contact  Zara Castillo at [email protected]  or call at (206) 256-6115