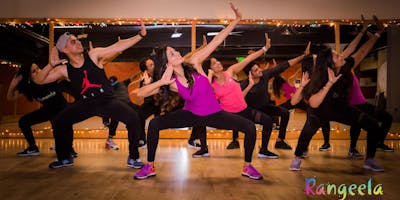 Come #DanceWithRangeela - Seattle's premier Bollywood fusion dance company!
Rangeela Dance Co. is bringing you exhilarating dance workout classes on SATURDAYS (Saturday classes begin September 7th) AND TUESDAYS (Tuesday classes begin September 10th) for our 2019 Fall Series! These energetic classes will be the perfect way to start & end the week strong burning those weekend calories and giving you an opportunity to learn our choreography.
Our Saturday classes, beginning on September 7th, will be a high energy, sweat dripping, 1-hour long #BollyCardio class that will have you cycling between high and low-intensity dance steps to the latest Bollywood hits. 
Our Tuesday classes, beginning on September 10th, will start with a heart-pumping #BollyCardio segment followed by unique choreography to popular Bollywood, Bhangra, BollyClassical, or #BollyHop routines!
These workshops are beginner/intermediate level classes - no prior dance experience is required. Our goal is for you to have a blast as you dance your way to being a Bollywood star! 
2019 Fall Schedule:
- Saturdays | 1:00 - 2:00 pm | September 7th - November 23rd
(note: NO class October 5th)
- Tuesdays | 6:30 - 7:30 pm | September 10th - December 10th 
(note: NO class November 26th)
Tickets are just $20/class for drop in purchased in advance, $25 at the door!
*** SAVE NOW and get the 8-Class Summer Package Deal with the reduced rate of $17/class valid towards any 8 #DanceWithRangeela classes this Fall (September- December)! Some exceptions and exclusions apply. ***
Purchase the 8-Class deal here: https://bit.ly/2NmQgjF
Spots are limited, get your tickets now!!
Get ready for a fantastic workout and dance lesson! Wear comfortable clothing, sneakers, and bring a water bottle.

Connect with us!Website: www.rangeeladancecompany.comFacebook: Rangeela Dance CompanyInstagram: @rangeeladancecompanyEmail: [email protected]