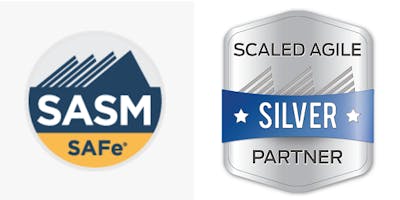 In this two-day course, you'll gain a deeper understanding of the role of the Scrum Master in a Scaled Agile Framework (SAFe) enterprise, taught by a SAFe Silver Partner and an instructor with real world experience as an Agile Coach, Release Train Engineer, Development Team Member, and Scrum Master within multiple SAFe implementations at Intel Corporation.
This two-day course prepares current Scrum Masters for their leadership role in facilitating Agile team, program, and enterprise success in a SAFe® implementation. The course covers facilitation of cross-team interactions in support of the program execution and relentless improvement. It enhances the Scrum paradigm with an introduction to scalable engineering practices; the application of Kanban to facilitate the flow of value; and supporting interactions with architects, product management, and other critical stakeholders in the larger program and enterprise contexts. The course offers actionable tools for building high-performing teams and explores practical ways of addressing Agile and Scrum anti-patterns in the enterprise. 

Topics Covered:
SAFe®, values, and Lean-Agile principles
Agile and Scrum anti-patterns
Program increment planning, execution, and Inspect and Adapt workshops
Quality engineering, Agile architecture, and DevOps practices
Kanban for facilitating team and program flow of work
Building high-performing teams
Interaction with the system team, deployment, UX, architects, product owners, product management, and business owners
Learning and Communities of Practice
Recommended Attendees:
Existing Scrum Masters with at least a few months of experience in the role
Team leaders, project managers, and others who have assumed the role of an Agile team facilitator in a SAFe® or enterprise Agile context
Engineering and development managers who will be responsible for Agile execution and for coaching teams and teams of teams
Agile coaches
Agile Program Managers and prospective Release Train Engineers

Every Participant Will Receive:

Light breakfast and coffee
Catered lunch
Afternoon snacks
Printed training materials
The certification exam for SAFe Advanced Scrum Master (SASM) to be taken at your convenience 
Eligibility to apply for 15 PDUs to help maintain certifications such as PMP, PgMP
Eligibility to apply for 15 Scrum Alliance SEUs (Category C) upon completion of the cours
Instructor:

Darcy Kruse spent the last half decade as an Agile & Lean Coach at Intel where she launched Intel's first eight SAFe agile release trains, and later helped scale the organization up to nearly 30 agile release trains. In addition to being an agile coach, she also worked in the SAFe system as a Release Train Engineer and Scrum Master. She has also been a Team Member on a scrum team in a Product Development Engineer role. She has taught scrum classes to employees of the State of California, HP, and Blue Shield of California. Darcy holds a graduate degree in Physics. She will share her real world experiences with implementing, continuously improving, and sustaining multiple Scaled Agile Framework implementations in this SAFe class.

Exact location in Seattle will be dependent upon number of registrants. Attendees will be notified of exact location at least 2 weeks prior to training.
Cancelation policy: Full refunds will be issued for cancelations made more than 30 days from the start of the course. For cancellations less than 30 days prior to course start, registrants may contact us to change their registration to another offering.
Notice: If you are booking travel please be sure to book refundable tickets. If 4 or more students do not register for the course, the course will be canceled and you will be notified of cancellation at least 2 weeks prior to class. Sprint Ahead will not be responsible for any canceled airline or hotel reservations.
For group rates, on-site intact training or to request alternate dates/locations/courses contact [email protected]
See our other SAFe certification and training offerings.