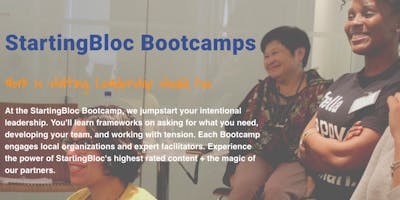 THE STARTINGBLOC BOOTCAMP EXPERIENCE IS PERFECT FOR OUR EXISTING FELLOWS, INDIVIDUALS CURIOUS ABOUT THE STARTINGBLOC FELLOWSHIP, OR FOR ANYONE LOOKING TO ADVANCE THEIR LEADERSHIP SKILLS. 
Each Bootcamp will provide both meaningful professional and personal development. With a heavy focus on skill building, frameworks, and connecting to other change leaders, you will leave this one-day experience better able to navigate differences of values in the workplace and in life, a community of support and accountability, and deep understanding of 21st century leadership skills.
What You'll Learn + Receive

The Polarity Management framework. Our workshop helps leaders and team members work and lead more effectively across difference. Polarity Management is our highest rated content across all programs, three years straight.

Pathway to Fellowship. Considering becoming a StartingBloc Fellow but not sure if you're ready to commit to a full 5-day Institute? The price you pay for a Bootcamp will come off of your Institute tuition, if you apply and are accepted later.

An introduction to the most innovative thinking in organizational design, the future of work, and the next generation of leadership. Think self-awareness, self-management, equitable collaboration, and team meetings you'd actually like.

A place to practice being bold. You'll learn to ask for what you need and build systems of generosity and reciprocity within your community or company.

Connections to 40+ other change leaders in the room. Bringing people together and igniting community is our secret sauce.

Direct learning and experience from our favorite locally based community organizations. We work with speakers like Seth Godin, Krista Tippett, Kierra Johnson, Vicki Saunders, and Aaron Walker.
FAQ's
When should I arrive in Seattle?
Plan to arrive the day before Bootcamp begins.  You will be able to make a return flight anytime after 7:00pm on the second day of training, however, we will host an optional social gathering at the close of the day. 
Which airport is the closest?
Sea-Tac - Seattle Tacoma International Airport
How should I get to Bootcamp from my hotel/hostel/friends place?
We recommend taking public transportation or a Lyft. 
Will lunch be provided? What about snacks and caffeine?
We feel you. Your registration includes lunch as well as hot and cold beverages and snacks available throughout the day.  Please notify us upon your registration of any food allergies or special dietary needs. We will accommodate for vegan, vegetarian, gluten free, dairy free and nut allergies. If you have allergies beyond this list, please plan to bring your own food. 
Is this open to StartingBloc Fellows and the public?
Yes. Both existing StartingBloc Fellows and the general public are welcome and encouraged to attend. 
Who should I contact if I'm interested in sponsoring this event?
Please contact Kristine Sloan at [email protected]