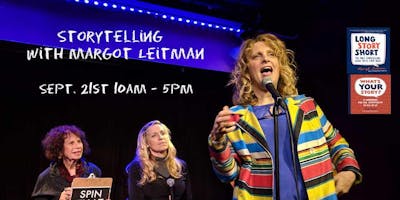 The class on Saturday, 9/21 is sold out. So we added an additional class on Sunday 9/22 at the same time. https://www.eventbrite.com/e/storytelling-with-margot-leitman-sunday-registration-70041681555
Margot Leitman returns to UP Improv to teach her storytelling class on 9/21 while out on her book tour for her 2nd book, What's Your Story? A Workbook for the Storyteller in All of Us. (to be released 8/27/2019).
Come learn how to use your untapped humanity and embarrassing moments in a way that can reach a wide audience. You will finish this workshop with the tools you need to effectively construct a story and be able to fill in the blank, "----------- is the story of my life." This class sold out quickly last spring.
Each student should leave class with a basic concept of how to make painful, strange or even mundane experiences from their life funny. The students learn to dig inside their own lives to find humorous, relatable material, which unifies an audience making them laugh at their own experiences through the student's performance. Instructor, Moth Grandslam winner and best-selling author of Long Story Short, the Only Storytelling Guide You'll Ever Need and What's Your Story? Leitman works with each student honing their stories to work better on stage.
After this workshop, students will have a strong direction of how to structure a story for the stage, office, first date or wherever they choose to put it to use. Additional focus will be on getting through the fear of being judged for our honesty. In the past, many students have left saying, "I can't believe I told a room full of strangers about that and I can't believe they all laughed!"
Date :Sept. 21st 10:00 am – 5:00 pm  (one-hour lunch break)Location: Unexpected Productions' Market Theater, 1428 Post Alley, Seattle, WA 98101 https://goo.gl/maps/2Um6WUNx8L42Maximum Students: 14Cost: $125Prerequisite: NoneAges: 17+Teacher Bio:
Margot Leitman is an award-winning storyteller, best-selling author, speaker, and teacher originally from Matawan, New Jersey.

A leading expert in the growing field of storytelling, Leitman has written two books on the subject: the best-selling, Long Story Short- the Only Storytelling Guide You'll Ever Need and her latest  What's Your Story? A Workbook For the Storyteller in All of Us both from Sasquatch books. Her comedic memoir, Gawky…Tales of an Extra Long Awkward Phase is available from Seal Press/ Perseus Books. 
She has written for NBC, DreamWorks TV, the Hallmark Channel and the PixL Network and a variety of print and online sources including Cosmo and Backstage Magazine. In 2016 she worked as the west coast story scout for This American Life. 
Margot is a five-time winner of The Moth StorySLAM and was the Moth GrandSLAM winner in New York City achieving the series' first-ever score of a perfect 10. Her stories have been featured on NPR's  "The Moth Podcast," "Good Food," "Unfictional," "Strangers," and is a frequent contributor to the popular podcast "RISK!"
Leitman is the founder of the storytelling program at the UCB Theatre, where she has performed in dozens of shows over the years and is a frequent monologist at their flagship show "Asssscat." 
Margot travels all over the world as a public speaker, storyteller and teacher. Internationally she has performed and taught at the SPOKEN FEST in Mumbai, India as well as a six-week teaching residency at the Blue Room Theatre in Australia. 
In her spare time Leitman is an amatuer baker, avid yogi and a devoted bibliophile. A proud graduate of the Ithaca College Theatre Department, Leitman now resides in Los Angeles. 
She travels all over the world teaching people to tell their stories. https://www.margotleitman.com/