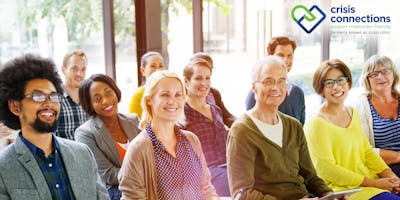 Thursday, September 12, 20199:00 a.m. - 4:30 p.m.Seattle, WA
Suicide Assessment, Intervention & Treatment (6 CEUs)
How do you determine if someone is suicidal and what can you do to help? In this training, you'll learn how to recognize the warning signs of suicide and assess the safety challenges of suicide and suicidal behavior.  We'll explore approaches to suicide management that anyone can use to more effectively communicate with individuals in crisis. Meets state requirements for social workers, mental health professionals, nurses, marriage and family therapists, naturopaths, osteopathic health professionals, physicians, physicians assistants, and psychologists.
Registration InfoCost: $150

No refunds are given

Attendee substitutions accepted up to 48 hours before training

$50 group discount for 5 or more attending from same agency (call to arrange: 206-461-3210 ext 608)

Location
Crisis Connections Training RoomNorthgate Executive Building II9725 3rd Ave NE, Suite 304Seattle, WA 98115

*This training is on the WA State Department of Health's Model List for Suicide Prevention Training for Health Professionals and is approved by the Medical Commission. It has also been approved for six (6) CEUs for Washington State Licensed Mental Health Counselors, Licensed Marriage and Family Therapists, and Licensed Social Workers. WMHCA Provider #1305.