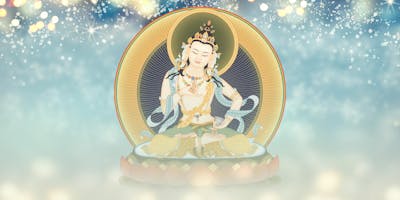 About the Workshops
Morning Workshop | Relating to the Buddha Seed Within According to Buddha's teachings, every living being has incredible potential for kindness, wisdom and inner peace. These states of mind are the inner seeds for the attainment of enlightenment but, because of mental stress on the surface of the mind and the residue of previous negative actions, the full flowering of these minds is obstructed. The meditation of Buddha Vajrasattva is a simple, inspiring and effective practice for removing obstacles and relating to our pure potential. Everyone is welcome to the teachings and guided meditations on this ancient and well-loved spiritual practice.

Afternoon Workshop | On the Path to Great Bliss* The practice of Vajrayogini Tantra offers the opportunity to explore Buddha's most profound and direct teachings on how to awaken our Buddha nature and attain enlightenment swiftly. In the afternoon sessions, Gen Khedrub will give advice on how to begin, sustain or re-boot your Highest yoga Tantra practice. Q&A session included - bring a question and enjoy this rare opportunity to receive teachings and participate in guided group meditations on the generation stage of Vajrayogini.
*The afternoon workshop is open only to those who have received Highest yoga Tantra empowerment of Vajrayogini.

About the Teacher
Gen Kelsang Khedrub, a Western Buddhist monk, is the Resident Teacher at Kadampa Meditation Center Washington in Seattle. He has been studying and practicing Kadampa Buddhism under Geshe Kelsang Gyatso's guidance for many years. His heartfelt teachings are presented with clarity and humor that make them accessible to everyone. Through his kindness, humility and deep understanding of Buddha's teachings, Gen Khedrub provides an inspiring example of a contemporary Buddhist practitioner we can follow.
Cost
$50 for both workshops ($30 for supporters of Kadampa Meditation Center WA).
$35 for either morning-only or afternoon-only workshop ($25 for supporters)
Registration for morning, afternoon or all day includes a delicious vegetarian lunch.

Schedule
Morning workshop
Session 1 - 9:00-10:15am | Session 2 - 10:45am-12:00pm
Lunch @ 12:00pm
Afternoon workshop
Session 1 - 1:30-2:45pm | Session 2 - 3:15-4:30pm