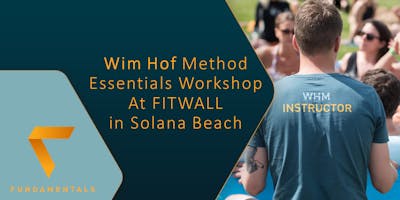 For athletes who are looking for ways to improve their workout, recovery, and overall wellbeing.  
In the WIM HOF Essentials Workshop, we will practice breathwork, mindset, and gradual exposer to the cold so that you can quickly implement these practices in your workout and life.
You will experience immediate physical benefits and with practice, long-term gains in your workout, stress levels, productivity and overall well being.  

At the gym, you work out your muscular system. What about the other systems of your body?
Systems like your Endocrine System (hormones), your Vascular System (heart and blood vessels), your Nervous System (brain and nerves), and your Respiratory System (lungs)? 
In this workshop, you will learn and practice how to work out these systems and promote a happy, healthy and strong body and mind. 
Benefits of the workshop include: 
Strong workouts with faster recovery
Anti-inflammatory effects on the body
Less stress and improved productivity
More energy, focus, and wellbeing
Increased pain threshold
Improved breathing pattern
The release of happy hormones
Circulatory system training
Increased mindfulness
Reduced sensitivity to the cold
You will learn and practice:
The science behind the WHM and the specific peer-reviewed university studies and their results
The WHM Breathing Protocol
The WHM Mindset
The WHM Flexibility
Gradular exposer to the cold (ice bath optional)
Bring with you a towel, bathing suit, and yoga mat or similar.  Water bottle and health snack encouraged.
To purchase a ticket, click the buy button. 
PLEASE READ THIS ADVISORY AND DISCLAIMER:
The WIM HOF METHOD ESSENTIALS WORKSHOP is for adults over 18 only and, like any activity, should only be done after consulting a doctor. Do not attend the workshop if you are pregnant, have epilepsy or any other diagnosis that would prevent you from safely performing mild physical activity (breathing and stretching) and being exposed to the cold.  NEVER practice the Wim Hof Method when in or near the water or when driving.  
FAQs
Are there ID or minimum age requirements to enter the event?
This workshop is geared toward fit adults that exercise regularly.  You must be 18 or older to attend the workshop.   
 
What do I bring into the event?
Towel, bathing suit, and yoga mat are essential.   A water bottle and a healthy snack are encouraged. 
 
How can I contact the organizer with any questions?
Email me at [email protected]
 
What's the refund policy?
You can refund your ticket up to the day before the event. 
Do I have to bring my printed ticket to the event?
You can show an ID, use a printed ticket, or use the phone app.