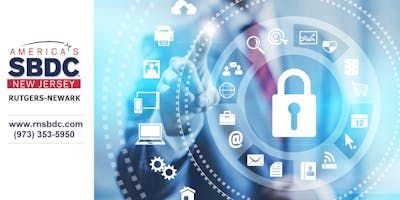 Cybersecurity for Small Businesses
The Rutgers-Newark SBDC has developed a Small Business Cyber Security Program to provide management teams of established small businesses with Cyber Security awareness. The goal of the program is for attendees to understand the importance of implementing a consistent, and continuously improving Cyber Security posture for their organization.
Our Cyber Security Program goes beyond intrusion detection and reactive remediation. We provide insight on how to prevent cyber criminals from compromising the integrity of your business critical assets and information on a daily basis. The program also provides a number of best practices and helpful tips to educate end-users who access your company's information systems.If cyber security for your small businesses is still an afterthought, keep in mind that for your customers, suppliers, and partners it is still a very important concern!
WHAT IS CYBER SECURITYa.      Security & Privacyb.      Laws & Regulations
SECURITY AUTHENTICATION & PRIVILEGED USER BEHAVIORa.      Single-Factor vs. Multi-Factor Authenticationb.      Solutions to Single-Facgtor Authenticationc.       Privileges User Authentications Best Practicesd.      Privileged Access Management Best Practices
SMALL BUSINESS CYBER SECURITY ASSESSMENT & MEASUREMENTa.      Organization & Knowledge Management Assessment Toolb.      Workforce Management Assessment Toolc.       Cyber Operations Managment Assessment Toold.      Cyber Measurement Management Assessment Tool
An opportunity for a post-training assessment of your small business cyberinfrastructure is available to those who attend the Seminar.

PRESENTER
Michael Battistella - Solutions3 LLC

Mike Battistella (BAT-TIS-TEL-LA) is the President of Solutions3 (pronounced Solutions-cubed).Mike is a recognized IT Management Practitioner as well as a course developer and instructor. Mike has written and delivered a number of technical and sales training for vendor partners such as, Hewlett-Packard, xMatters, and Service Management Partners. In additional to teaching technical and sales training, Mike is also certified "Communication & Leadership" instructor for EDC Communications, providing Speaker Skills and Leadership Training for their clients. Mike was selected as one of the SBA's Emerging Leaders for 2015, and continues with the SBA Emerging Leaders Program as a business coach and mentor.
Solutions3 provides their clients with award-winning IT Management solutions based on the three key areas of IT Management: People, Process, and Technology. Their solutions encompass the full life cycle of IT Management including the architecture, the software resale, the implementation, and the training their clients need to successfully take over the solution provided. If 2015, Solutions3 was recognized by CIOReview magazine as one of the "20 Most Promising Defense Technology Solutions Providers 2015."
REGISTRATION
PRE-REGISTRATION REQUIRED.Cost to attend: $55
Sorry, no cash will be accepted for registration for this eventAdvanced payment on Eventbrite will guarantee your SEAT. First come, first served policy applied.

REFUND & CANCELLATION POLICY
You can cancel your ticket(s) to our event within 1 week of the scheduled date by requesting in writing to [email protected] Cancelations received less than 1 week before the scheduled event WILL NOT BE REFUNDED. An internal credit will be given to you to attend the event at a later date and you will be offered 1 year to redeem this credit. We will require a 2 week advance notice to schedule you for the next available event.
Any tickets purchased tickets that results in a "No Show" to the event will not be refunded. By not showing up for the event you have forfeited money paid and previous internal credit offered.