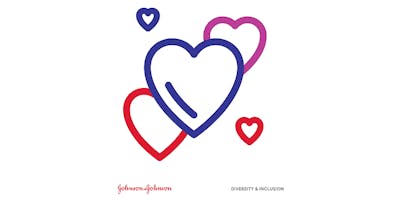 Developing an Inclusive Mindset
June 12, 2019
Actelion, South San Francisco, Bistro/Ocean area
Presentation at 3:00 pm
Optional Workshops at 4:00-4:45pm
Employee Resource Group tables 4:00-5:30 pm
 
The world continues to change, and different viewpoints, experiences and backgrounds are critical to supporting our patients, our employees and our business. Diversity and Inclusion is a key driver that enables us to address new challenges and maximize opportunities to continue delivering solutions to the patients who count on us every day.
 
Join us to learn more about the J&J Diversity and Inclusion (D&I) vision, mission and strategy.
 
Participate in optional workshops to learn practical ways of incorporating D&I into your everyday work and life.
 
Mix and mingle with representatives from Employee Resource Groups (ERGs). ERGs are voluntary, employee-led groups that focus on shared identities/affinities and experiences, and look to apply those perspectives to initiatives that create value for all. We hope you'll explore the many ERGs and find one that's right for you.
 
This event is open to all J&J employees. Please bring your badge and picture ID for security.