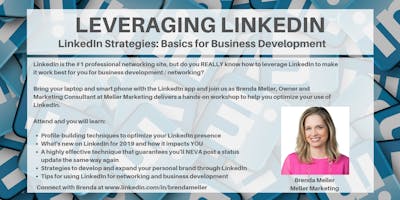 LinkedIn is the #1 professional networking site, but do you REALLY know how to leverage LinkedIn to make it work best for you for business development / networking?
Bring your laptop and smart phone with the LinkedIn app and join us as Brenda Meller, Owner and Marketing Consultant at Meller Marketing delivers a hands-on workshop to help you optimize your use of LinkedIn.
Attend and you will learn: • Profile-building techniques to optimize your LinkedIn presence • What's new on LinkedIn for 2019 and how it impacts YOU • A highly effective technique that guarantees you'll NEVA post a status update the same way again • Strategies to develop and expand your personal brand through LinkedIn • Tips for using LinkedIn for networking and business development
All attendees are encouraged to connect with Brenda: www.linkedin.com/in/brendameller
Wednesday, July 17th from 8-10 a.m. at 20300 W. 12 Mile Rd. Ste 202 Southfield, Michigan, Meller will be sharing the best techniques to get the most of Linkedin. Join us from 8-8:30 a.m. with your business cards for our networking session before we get into Leveraging Linkedin.