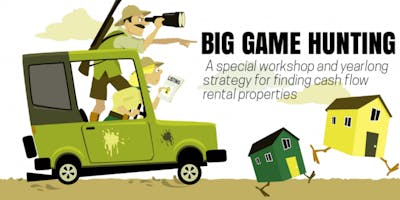 Buy Fix and Hold: The Best Investment for this Market
This will be a one day event where we share with you the fast track to true passive income. Begin your plan to Retire Rich and Retire Early. Learn about our system in finding cash flow rental properties.

We share with you the best strategy for finding cash flow investment properties with 50% less down then other standard deals.

Learn exactly how to build the real estate portfolio you've always wanted.

Gain access to our lending network who are willing to fund deals immediately.

Learn to get partner and leverage to build your portfolio.

Discover our proven method of identifying the best cash flow yielding markets in the country.

Step by Step – Work with us hand in hand to build your rental portfolio. 10 Steps to Financial Freedom!!!

Prepare 5 year plan

Pre- Qualified for 30 year fixed mortgages

How to structure deals with little money down.

Know the Questions to Ask Potential Property Managers

Build a Team

Make Offers; MLS, Foreclosures, and Off Market

Set up Holding Structure for Your Rental

Rehab Schedule and Design

Refinance Options

Get the Right Tenants
Please note this strategy requires resources, Good Fico, Money Down, Cash Reserves, and Time to Manage the Projects.
PRICE: $147.00
Saturday Day Nov. 9th 2019
Fairfield Inn and Suites
45N & Rayford Road