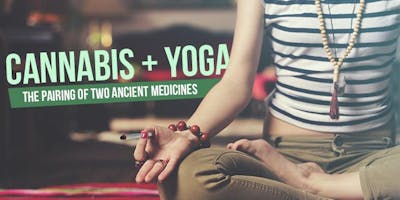 In this exploration of CANNABIS and super-relaxing floor based restorative yoga, you will not only learn about, but also experience the BLISSFUL connection of your Endocannabinoid System, Cannabis, and the practice of yogic stretching. Come ROLL on your mat with us! This afternoon of tranquil breathing, gentle stretches, and guided meditation will be all about self-love and compassion. Yogi Michelle will lead the group in a  yoga class, enhanced with favorite BUDS, aromatherapy, and backed by an enchanting soundtrack while teaching comfortable poses for every level. Flexibility-challenged stretchers to advanced yogis are welcome to this super LAZY class! Healthy refreshments will be served, and a free gift is included with each full-price ticket. If you are unsure of your ability level or need more information, please feel free to email. To comply with local regulations for cannabis-friendly classes, this is a BYOC (Bring Your Own Cannabis) yoga class.
**Must be 21 or older to attend
**This is a BRING YOUR OWN CANNABIS (BYOC) event; you may share but you may NOT sell per CA law.
**Do not attempt to take this class if you have been advised by a doctor to avoid yoga, stretching, getting on the ground, closing your eyes, or breathing.
**Lounge (venue) address will be emailed immediately following ticket purchase. Please read carefully to ensure clarity in advance.
**Healthy snacks, beverages, and friends included!
**No refunds on ticket purchase, so you're committing to YOU!
**** COMBO CLASS DISCOUNT *****
Enter promo code: cannabliss when purchasing your BUDS with BUDDHA to get $5.00 OFF
It's been said that cannabis has been a gateway to higher spiritual consciousness and has been beneficial for the body, mind, and soul. Join your BBL tribe members in our newest exploration of relaxed breathing guided meditation techniques – BUDS with BUDDHA. Chill on a pillow or chair and medicate the way you like as Yogi Michelle guides you safely through a sequence of gentle meditation perfect for a curious first-timer. The occasional meditator and even those with seasoned practice can learn to appreciate the fresh approaches presented in this class.