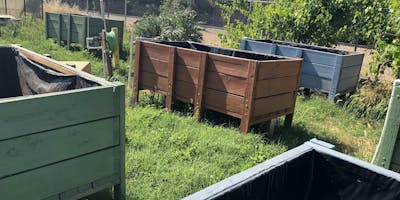 Please join us as we come together as a homeschool community to build  the San Joaquin/Sacramento areas first unschool/homeschool community garden.  We have beautiful raised beds and a great foundation to make this a special place. You and your children will have an opportunity to join us for this community meet up as a one time opportunity to learn how to build and sustain a garden at home, for a long term ongoing project by adopting one or several garden beds for your family/child to maintain, or thirdly as an ongoing volunteer/community member without a personal bed that builds and contributes throughout the garden space. 
Our garden is for our homeschool community and is free, however we do ask a small seed/love offering to go towards plants, garden supplies, project/lesson supplies etc. if your family is able to donate, recommended amount $5 per person or whatever you can share to build this amazing opportunity for us. Love offerings accepted through eventbrite or at the farm.
Through this garden program we will learn: 
Environmental stewardship
Companion planting 
How to seed in a greenhouse 
How to direct sow
Composting 
Companion planting
How to create a drop water system
How to work as a community 
Nutrition 
Cultural foods
Mindfullness

yoga 
Things to Bring:
Fruit, berries and/or vegetable plants for planting in your raised garden bed(s)
Gloves if you prefer to use them 
A hand shovel if you have one
A dish of your choosing to share for lunch
What to wear:
Garden appropriate closed toe shoes
weather appropriate clothing 
Community Garden Needs (donations):
Herbs (rosemary, lavender, white sage, stevia, basil, etc.)
 Vegetable plants (Bonus points for unique or colorful variaties, kids love them)
Fruit Plants 
Seeds
Seed staring Supplies 
Watering Cans 
Plant label sticks 
Cutting sheets
Hand shovels 
cash/gift card  donations through eventbrite or at the event.